Medvedev vows further help in Nagorno-Karabakh dispute settlement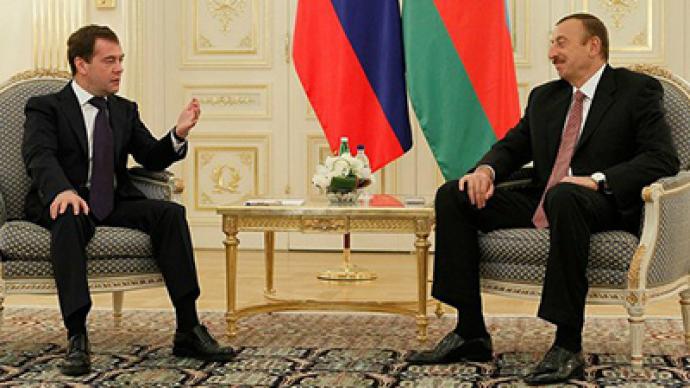 Moscow is set to continue facilitating Armenia's and Azerbaijan's quest to find a solution to the Nagorno-Karabakh conflict, President Dmitry Medvedev has said.
The Russian leader held a meeting with his Azerbaijani counterpart Ilkham Aliyev in Baku, on the sidelines of the third Caspian Summit that is currently taking place in the republic's capital. "Russia is ready to exert effort in order to ensure security in the region and help the development of relations between Azerbaijan and Armenia," Medvedev said, cites Itar-Tass.He noted that certain steps have been taken recently in that respect. "I agree that the Nagorno-Karabakh conflict should be settled in compliance with the norms of international law. The work is being done at all levels. We are ready to help this process," the Russian president stated. Aliyev thanked Medvedev for his active role in negotiations between Armenia and Azerbaijan on resolving the long-standing dispute over the Caucasus mountain enclave."Your personal participation plays an important positive role," the Azeri president said, as quoted by Interfax. "I hope we will manage to make further headway in these processes and ensure peace and security in this region." According to Aliyev, that would be possible "only with international law, resolutions of international organizations and if principles reflected in international declarations are observed".The confrontation over Nagorno-Karabakh broke out in 1988 when the region, mostly populated by Armenians, sought independence from the Soviet republic of Azerbaijan.In 1991, the Nagorno-Karabakh Republic was founded. Azerbaijan tried to regain control over the region and the conflict escalated into a war in which about 30,000 people were killed. The conflict ended in 1994, with Nagorno-Karabakh's independence remaining unrecognized and the region being part of Azerbaijan, according to Baku's legislation.Armenia has been supporting the Nagorno-Karabakh region, representing its interests on the official level. In the last 15 years, Russia has been the main mediator in peace talks.
You can share this story on social media: