The road to reconciliation - Armenia, Azerbaijan hold talks in St. Petersburg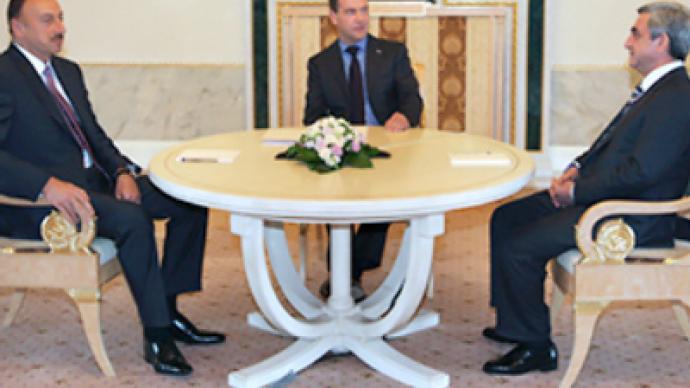 Armenia and Azerbaijan could be on the way to reconciliation over the issue of Nagorny-Karabakh. Co-chairs of the OSCE Minsk group, which mediates the talks between the states, will visit the region next month.
That's according to Armenian Foreign Minister Edward Nalbandian.
He said the meeting between the leaders of two Caucasian countries, which took place in St Petersburg, paved the way for the Minsk Group visit. The body is co-chaired by representatives of Russian Federation, France and the United States.
"The process is continuing. We can say the negotiations were quite constructive and useful. They played an important part in the regulation of the problem of Nagorny-Karabakh," said Nalbandian.
According to the Azerbaijani Foreign Ministry, such meetings always give hope of finding new ways leading to a mutually-acceptable resolution of the Nagorno-Karabakh conflict. "Azerbaijan's position is that there exists a document submitted by the Armenian and Azerbaijani sides enabling the sides to reach a new level of negotiations," stated the spokesman for Azerbaijani Foreign Ministry, Elhan Polukhov.
Russia is also optimistic about the future of the problem.
"We have seen the convergence of positions in several objectionable parts of the text on basic principles of the settlement," said Russian Presidential spokesperson, Natalya Timakova.
The presidents of Armenia and Azerbaijan met at the invitation of Russian President Dmitry Medvedev.
The leaders of both Caucasian republics voiced their readiness to continue discussions on reconciliation over the disputed territory.
This was the sixth meeting between Azerbaijan's Ilkhan Aliyev and Armenia's Serge Sargsyan, initiated by the Russian President.
Nagorny-Karabakh is a landlocked region in the southern Caucasus. The territory is populated by both ethnic Azerbaijanis and Armenians, and has been at the core of bitter conflicts since the late 1980s. The conflict claimed thousands of lives and created hundreds of thousands of refugees on both sides.
Armenia and Azerbaijan have been immersed in peace talks since 1994, mediated by the OSCE Minsk group.
Irina Galushko, RT
You can share this story on social media: