Moscow Region plans to outlaw propaganda of all non-conventional sex relationships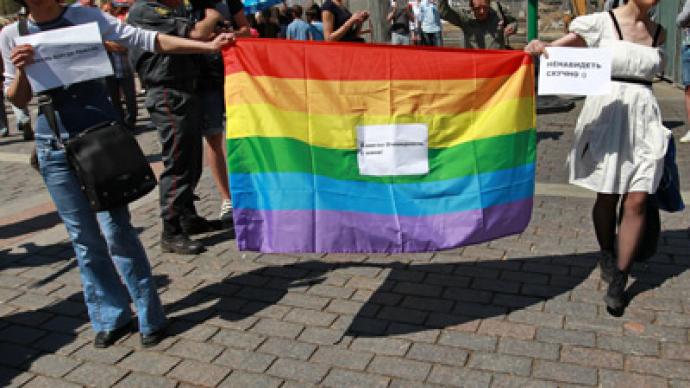 Months after legislators in St Petersburg made the headlines by banning gay propaganda towards minors, their colleagues from the Moscow Region plan to outlaw the promotion of all 'non-traditional' sexual relationships.
The Moscow Region has a population of about 7 million, and does not include the city of Moscow city which is governed separately. Unlike St. Petersburg that outlawed the propaganda of homosexuality, bisexuality and transgender among minors, Moscow Region plans to ban the propaganda of any non-traditional sexual relationship, without listing them as these are "beyond any count," Izvestia daily reported quoting a member of the regional Council of MunicipalAssemblies, Aleksandr Naumov. Regional legislators also suggest breaking the future law would be considered by magistrates and punished by fines of up to 5000 roubles (about $170) for private persons and up to 250,000 roubles (over $800) in case of first-time offence. For the repeated offences the fines are doubled. The current draft suggests the formula of non-traditional sexual relations that are described as "homosexuality, bisexuality, sadomasochism and other deviations of sexual behavior". Propaganda is described as "popularization of non-traditional relations and presenting them as a norm". According to Naumov, the first reading on the new bill is scheduled for December 8. However, the press service of the regional legislature said that there were no plans to consider the ban on propaganda of non-conventional sex as in its current form the draft contradicted certain federal laws. Russian society has never been very tolerant to sexual minorities, but the attitude became softer after the collapse of the Soviet Union and the cancellation of the criminal prosecution of homosexuals. Over the past year, however, Russian authorities started a broad campaign against "gay propaganda", mostly on a regional level.Currently the laws banning gay propaganda exist in eight of Russia's 83 federal districts. Gay activists oppose the bans as discrimination. So far they have pressed for the Constitutional Court to rule that gay pride events are not propaganda, but the struggle continues.