Kremlin man v opposition blogger: Moscow mayor election campaign in full swing
Russia's capital is to pick a leader in less than a month, when a historic, first-in-a-decade mayoral election takes place in Moscow. Ahead of Monday's first round of debates, RT's Anissa Naoui has spoken to supporters of the frontrunners in the race.
Seven million registered voters have six mayoral candidates to choose from, but pre-election polls show the frontrunners are the incumbent mayor Sergey Sobyanin and an anti-corruption blogger and opposition leader Aleksey Navalny.

Candidates running for mayor of Moscow

Mikhail Degtyaryov, 32, MP for Russian Liberal Democratic Party (LDPR)
Nikolay Levichev, 60, Chairman of social-democratic party Just Russia
Ivan Melnikov, 63, senior member of the Communist Party of the Russian Federation (KPRF)
Sergey Mitrokhin, 50, Chairman of Russian United Democratic Party Yabloko
Aleksey Navalny, 37, opposition leader and anti-corruption blogger  
Sergey Sobyanin, 55, acting mayor of Moscow and senior member of the United Russia party
The VTSIOM polling service has come up with a study of the candidates' recognizability. Sobyanin's is 96 percent. Then comes Navalny with 79 percent. The next closest to the frontrunners is Sergey Mitrokhin of the liberal Yabloko party with 67 percent. The names of the rest of the mayoral candidates ring a bell for a third or less of Muscovites.

"The state media is focused on Sobyanin, and the opposition media is focused on Navalny, so the communists and the socialists were sidelined," political analyst Dmitry Babich explains.  

Sergey Sobyanin has been Moscow's mayor for two years, having been appointed by then-President Dmitry Medvedev following the controversial sacking of political heavyweight Yury Luzhkov.

Having taken office in 2010, Sobyanin could, according to law, stay there until 2015, but in June he announced his intention to resign in order to initiate and run in early mayoral elections. The Kremlin appointee explained he required the popular mandate as "the most legitimate form of support".

The incumbent mayor's team is confident the city's streets speak for Sergey Sobyanin.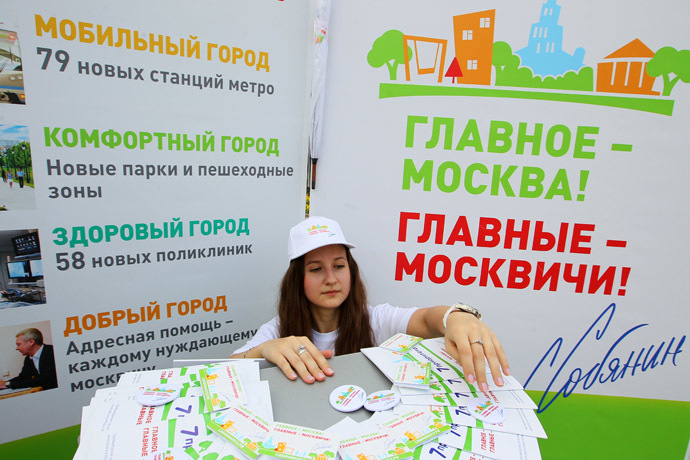 "Sobyanin completely changed this city. His priorities have been public space, fighting traffic, development of public transportation, and to take medicine and education to new levels of development, and his plan is to continue that work if he is elected," Sergey Kapkov, Moscow's minister of culture, told RT.

Navalny's supporters insist the changes they see are too slow and too few.

"Have you ever been to Paris? That's what we want! Boulevards, green everywhere, look here for two months they have been putting down tiles! Bike paths, our plans for traffic will be like the rest of the world, not like Sobyanin," Mikhail Morozov, a campaigner for Aleksey Navalny says.

The anti-corruption whistleblower has recently had all eyes on his court drama. Wrapped up in a fraud scandal, Navalny was sentenced to five years in prison for embezzlement, arrested in the courtroom and the next day released pending appeal. He has repeatedly condemned the process against him as fabricated by the authorities, which he maintains are irritated by his opposition activities, namely his blog and a website disclosing suspected cases of corruption and other felonies by top civil servants and executives of state corporations.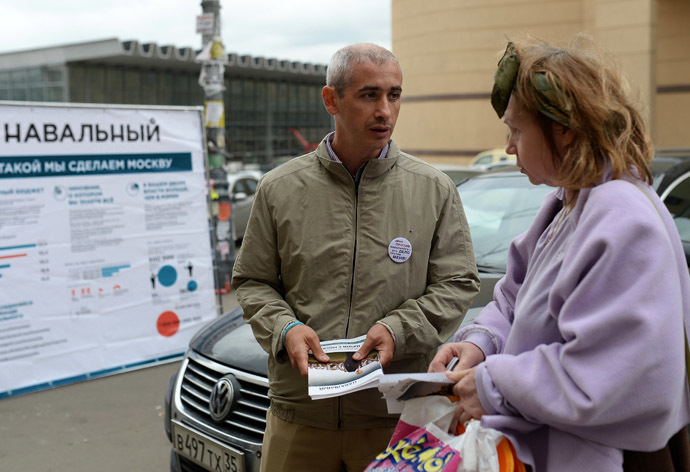 Navalny's most recent revelation targets his main rival, Sobyanin. The whistleblower has demanded explanations concerning a $5 million-valued apartment in the city center owned by Sobyanin's underage daughter. Sobyanin's representatives insist the property was legally privatized.

The incumbent mayor could use a chance to dismiss all allegations against him at the first round of debates due on August 12, where all six candidates are supposed to take part. Sobyanin however announced he is not participating.

"This is a well-known technique: if your competitors are less popular than you, debating with them would mean promoting them. I could still do it, but the discussions that are taking place now are too often far from real problems," he earlier explained his unwillingness to take part in the debates to Vedomosti daily.

The last mayoral election in Moscow was held in 2003. The following year Vladimir Putin replaced the polls with direct appointment by the president, justifying the move by economic and security reasons. In 2012, the direct regional elections were reinstated by Dmitry Medvedev.