Mikhail Prokhorov's would-be party lacks public awareness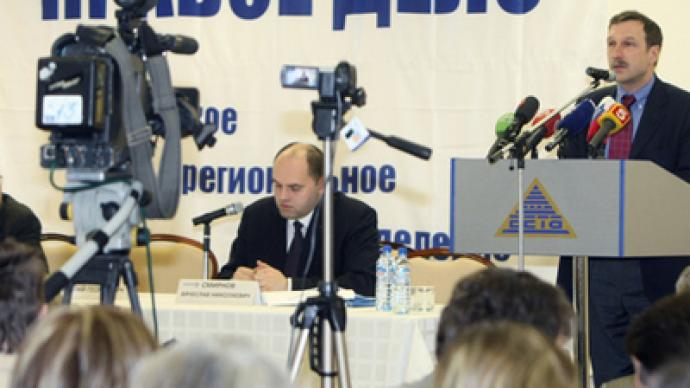 According to a recent survey, the majority of Russians know nothing about the Right Cause opposition party, which secured the agreement of billionaire Mikhail Prokhorov to lead it.
This means that Prokhorov, who is expected to formally become its head on June 25, will have to virtually start from scratch to achieve his ambitious goal of making it the second largest faction in the State Duma.The All-Russia Center for Public Opinion (VTSIOM) conducted a study revealing that only 1% of Russians are ready to vote for the Right Cause Party at the forthcoming parliamentary election scheduled for December 4. The survey of the independent sociological Levada-Center shows an even less optimistic figure, 0.2%. Judging by these results, the Right Cause Party cannot even hope to overcome the 5 per cent threshold  necessary to enter parliament. According to the VTSIOM study, only 6% of Russians "are well-informed" about the party. 44% of those surveyed had "heard something" about it, while 48% "know nothing" about this political force. For example, 61% of those who took part in the opinion poll actually learnt about it from the sociologists conducting the survey. Businessmen Mikhail Prokhorov announced he would assume the head of the Right Cause Party on May 16. Earlier this week he said that he also intends to change its name and that a "creative group" has been set up for this purpose. A rebranding campaign will be launched in hopes of raising awareness of the party amongst the Russian people.  But that's not the end of it.  Mikhail Prokhorov intends to bring it to the top, making it a powerful counterbalance to the ruling United Russia party. The current Right Cause leadership is rather optimistic about its future and lay great hopes on the would-be new leader, who will strengthen its positions in the Russian political landscape. However, those respondents who are well aware of the party are skeptical on this account. 35% of them do not think that its role will significantly change with the arrival of Mikhail Prokhorov. 23% say that this will add value to the Right Cause while 13%, on the contrary, believe that this will weaken the party's influence. Setting ambitious goals, Mikhail Prokhorov, nevertheless, does not rule out a less than rosy scenario. On Wednesday, he said that he will step down as the party leader if the party does not make it to the parliament.  If it succeeds however, he will stay for the entire term. Political experts note that the name of Mikhail Prokhorov will certainly help the party to gain some ground but purely marketing strategies are not enough. Its real weak point is the lack of a clear political program. Drafting and promoting it is likely to take time. Something the Right Cause party really lacks, at least ahead of this year's election.
You can share this story on social media: