Opposition creates unity to counter Putin's Popular Front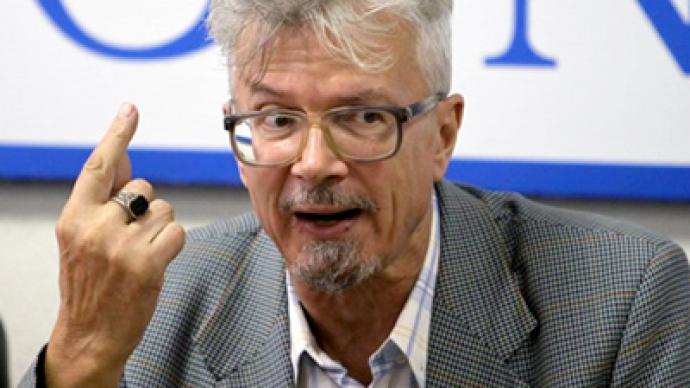 Three Russian unregistered opposition parties have announced the creation of a new union, the National Salvation Committee, which will also be open for other organizations who oppose the ruling power.
The decision to form the committee was made following a series of preliminary consultations by the parties The Other Russia, RotFront, and Fatherland: Common Sense, the Other Russia's press-service reported on Monday.According to the statement, "real opposition" was illegally removed from elections, which "Violates the constitutional rights of millions of citizens." The committee plans to bring people to the streets on the parliamentary Election Day in December this year. The new unity has adopted a declaration in which they state that their aim is to counter the power plans to make sure the tandem of President Dmitry Medvedev and Prime Minister Vladimir Putin remains in power for another six years. "If we let those anti-popular forces seize power again, that would be a fatal historical defeat for our Fatherland," the declaration reads. The National Salvation Committee welcomes all political and public organizations into the unity movement who oppose the ruling power.The declaration was signed by Aleksandr Averin, Eduard Limonov, Sergey Udaltsov and others. Earlier, the head of the Other Russia and famous writer, Limonov, said that the parties that joined the committee would not be able to participate in the upcoming State Duma election since they were denied official registration by the Ministry of Justice."The front is being created for a political struggle. The political struggle is not limited to election only," he said, reminds newsru.com. The politician added that the opposition is going to use only peaceful methods in their fight, "just as we have always declared."On Monday, he underlined on his blog in LiveJournal "the historical significance of the moment." According to Limonov, Putin's Popular front "of bureaucrats" and the opposition's newly created National Salvation Committee are "two poles of attraction of political and public forces" and from now on the entire political fight in the country will be around these two "poles". Earlier in May, Putin announced of the creation of the "All-Russia Popular Front". It would include political parties, trade unions, youth and women's organizations, Afghan war veterans and all people who are "united by the idea to strengthen our country and the idea to search for the optimal possibilities of solving the current problems," the premier said.
You can share this story on social media: