Russian banker Lebedev to join Putin's Popular Front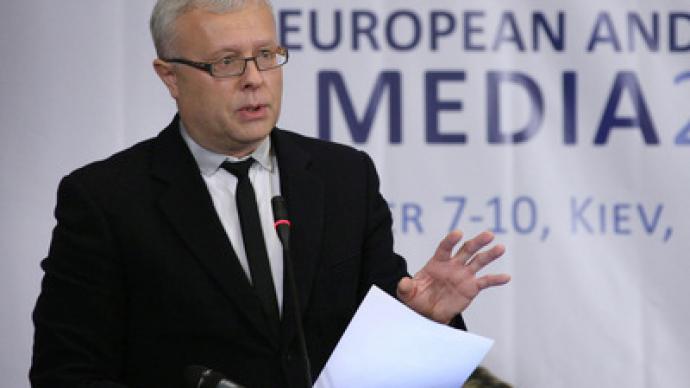 Russian billionaire Aleksandr Lebedev has announced that he will quit his banking business and apply for membership of the Popular Front - a political block based around Vladimir Putin and the United Russia party.
In a Thursday interview with the Russian online newspaper Gazeta.ru, Lebedev said that he considered it impossible to remain in the banking business. "I will leave the field in two months, become an ordinary citizen and will carry on civil activities," said Lebedev, who is the head and key owner of the National Reserve Corporation – a financial and industrial holding with assets in Russia and Ukraine. Russian media estimated Lebedev's worth at about $600 million in 2009. The businessman said that he had encountered certain problems after he recorded and published a video on his internet blog accusing generals of the State Security Service of covering up money laundering operations.Lebedev said that on Friday his public organization "Our Capital City" would submit an application to join the United Popular Front – a bloc that promised parliamentary seats for public figures who were ready to co-operate with the United Russia party. The businessman said he was confident in a positive decision on the application. Lebedev also said that his business has been "bullied" by Russian law enforcers and connected it with the charges he made in the video, as well as with his earlier political activities and disclosing the instances of corruption in the power structures. He also said that he had unspecified problems with the Russian Central Bank. In February, Lebedev even addressed Prime Minister Putin with a letter in which he complained of the searches that had been held in the National Reserve Bank – the financial backbone of his holdings. Lebedev also said that the video on money laundering had appeared on his blog by mistake and he had initially prepared it for a closed conference with the Russian government, Central Bank and Federal Security Service.Aleksandr Lebedev started his career as an officer in the Foreign Intelligence Department of the KGB, but retired in early 1990s to start his own banking business. He made several moves to enter politics in the mid-1990s before announcing his intention to become the mayor of Moscow in 2003. Lebedev held an intensive campaign for the post, based mostly on criticism of incumbent mayor Yuri Luzhkov, and subsequently lost the election. Then he announced that he was formally quitting his business activities, joined the United Russia party and, in 2004, became a member of the State Duma. In 2007, Lebedev quit the United Russia and joined the freshly-created Fair Russia party, but did not secure a seat in the parliament and returned to business. In 2008 Fair Russia expelled him from its ranks.Lebedev's political work required media support and he has created a media holding which included Russian newspapers and websites, as well as some foreign media. . The main asset in the holding is the Novaya Gazeta newspaper which is partially owned by Mikhail Gorbachev. Lebedev, who lived and worked in the United Kingdom for a long time, acquired the London Evening Standard newspaper in 2009 and announced that he had plans to re-launch it.On Friday afternoon Vladimir Putin's press secretary Dmitry Peskov said that the Popular Front welcomed the decision of the Our Capital City group to join it. Peskov said that every organization that shares the main goals outlined by Vladimir Putin and United Russia has a chance to join the front.
You can share this story on social media: