Medvedev puts Russian military on fast track
Published time: 12 Nov, 2009 16:56
Edited time: 3 Dec, 2009 11:29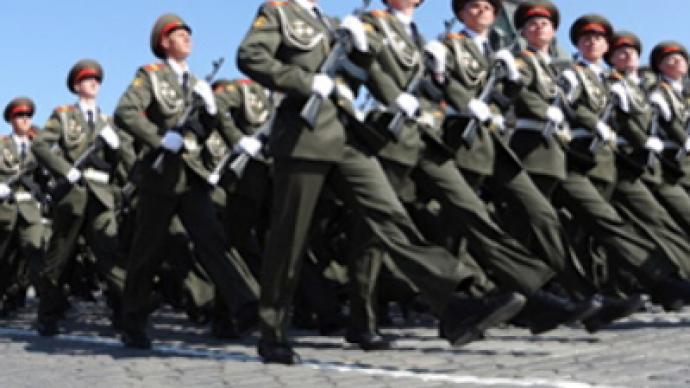 President Dmitry Medvedev on Thursday dedicated part of his annual parliamentary speech to beefing up the Russian military - and without delay.
In the 100-minute marathon speech built around the idea of "modernization and change," the Russian president surprised observers with an ambitious shopping list of military hardware that he said must be operational in the Russian military by 2010.
"Next year," Medvedev said, in comments that probably had defense contractors sweating, "we need to supply to the army over 30 ground-based and sea-based ballistic missiles, five Iskander missile systems, some 300 armored vehicles, 30 helicopters, 28 fighter aircraft, three nuclear submarines, and one Korvet combat ship."
The Russian president said the rapid rearmament program was necessary for creating an army "that will not allow anybody to threaten us and our allies" and give Russian forces "superiority over any enemy."
But many are asking: why now, and why the rush?
One year ago today, President Medvedev warned that Russia would deploy short-range Iskander missile systems in its Kaliningrad exclave that shares a border with Poland, "to neutralize, if necessary, [America's] anti-ballistic missile system in Europe."
The Iskander-M (NATO reporting name SS-26 Stone) missile system has a range of at least 400 km (250 miles) and can reportedly carry conventional and nuclear warheads.
But Russia's emergency deployment plans were abruptly cancelled after US President Barack Obama announced he would shelve the missile defense brainchild of former US President George W. Bush and substitute it with a "sea-based missile defense system."
Moscow has been requesting details on the new system, but so far it only has this bit of data from US Defense Secretary Robert Gates to chew on: "In the first phase, to be completed by 2011, we will deploy proven, sea-based SM-2 interceptor missiles – weapons that are growing in capability – in the areas where we see the greatest threat to Europe," Gates wrote in an op-ed piece in The New York Times.
"The second phase, which will become operational around 2015, will involve putting upgraded SM-3s on the ground in Southern and Central Europe," Gates continued. "All told, every phase of this plan will include scores of SM-3 missiles, as opposed to the old plan of just 10 ground-based interceptors."
Gates gave no hint as to where the system would be built, or if Russia would cooperate in the construction and oversight of the missile defense system once it is operational.
Understandably, any chance of renegotiating the START-1 treaty, which expires on Dec. 5, 2009, hinges on America's willingness to build a missile defense system together with Russia, or at least one that does not keep Russian generals awake at night (as Obama's "watered-down" version will probably do).
"The US has dropped its missile defense plans [for Central Europe], and developed an alternative system that would not create problems in its first phase," Sergey Lavrov told RT and other media in an exclusive interview. "But we would like more details on further stages."
So is it mere coincidence that Medvedev has chosen this particular moment – with Russian and US diplomats working overtime in Geneva to forge a replacement for the Start-1 treaty before its Dec. 5 deadline – to announce a major rearmament program, and one that places overwhelming emphasis on sea-based weapons – similar to the US missile defense plan?
"Russia certainly sees some US actions – like giving Patriot missiles and F-16 fighter jets to Poland – as threatening," Dmitry Babich, political commentator with Russia Profile journal, told RT.
Moreover, Russia is concerned with its nuclear capabilities becoming worthless if the US continues with its missile defense system, he added.
"Symbolically, it was the beginning of a dangerous process," Babich said. "Russia understands that it needed to put its foot down now before the system encircled it."
Babich disagreed that Medvedev's rearmament announcement was a bad omen for the START-1 talks, arguing that perhaps Russia is looking for "more leverage in the ongoing talks" that are continuing under a shroud of secrecy.
A policy of pragmatism
In laying out his foreign policy plans, Medvedev said that Russia would stick to the pragmatic path, and keep the moat gate open when foreign investment and technology comes knocking.
"Our relations with other countries should also help us to achieve this goal of modernizing Russia," Medvedev said. "We don't need to be arrogant. We are interested in foreign investment in modern technologies from abroad. And we know our partners want to be closer to Russia in order to carry out their priority tasks. Therefore, our foreign policy should be purely pragmatic."
Then, the Russian president possibly added a new page to political philosophy when he stressed that foreign policy should work to improve conditions at home.
"The way to access the effectiveness [of a foreign policy] is very simple: does it help to improve the living standards of our country?" he asked.
Medvedev then said that Russia continues to advocate a multi-polar world, and international organizations, specifically the UN, for addressing global issues.
"We support multi-polarity," the Russian president announced. "And I think the world is becoming increasingly clear about this… We need to find collective solutions, and there is a universal mechanism for this – the United Nations."
NATO
Russia should accept its share of responsibility for guaranteeing European security, Medvedev argued, stressing that this was not at odds with NATO's efforts.
"In terms of global security, our main efforts should be concentrated on providing European security," he said, adding that "legal treaties dealing indivisible security in the Euro-Atlantic region should become our imperative."
Medvedev again stressed that Russia was not working against NATO, but he did remind the audience that Russia was not a member of the military pact, whose purpose, many argue, has become tenuous since the collapse of the Soviet Union.
"Occasionally, people criticize us and say that we've invented all of these things against NATO," he said. "This is not so. Our foreign policy is not against someone. But we are not members of NATO as well, and there are a number of other countries that are not NATO members but still all questions concerning European security need to be taken now, therefore we need a new effective forum for this."
The Russian president then reminded the gathered assembly in the Kremlin palace the consequences of an organization that is not geared to handle particular challenges, especially in Russia's sphere of influence.
"Had we had such an effective organization able to stop an aggressor," Medvedev said, "Georgia would not have had the insolence to start a war in South Ossetia."