Medvedev advocates reforms, promises more changes in TV interview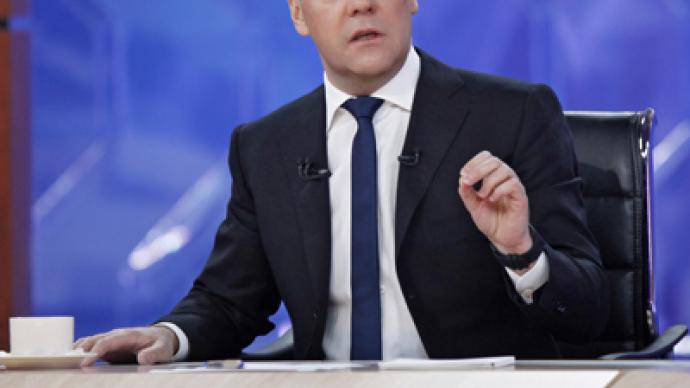 Speaking to Russian journalists Prime Minister Medvedev praised the successful start of the military reform begun by now former Defense Minister and stressed that only a court can prove the man's complicity in corruption scandals.
When a reporter asked Medvedev in a televised interview why he kept defending Anatoly Serdyukov, who lost his job after the corruption scandal at the Rosoboronservis company, Medvedev answered that it would be wrong to judge a man only on the basis of press reports, and added that the court would make a ruling on the issue after investigators collect all the evidence and it is duly considered.Medvedev said that he personally considered Serdyukov a very talented and potent civil servant as he gave a good start to the much needed military reform. The Prime Minister pointed out that even at the first stage of the reform, the salary to servicemen was raised almost to the European level and the housing situation was greatly improved. The military also started to receive new weapons and the whole image of the forces has changed for the better.At the same time, Medvedev admitted the reform might have some faults as can any complicated plan.After this, Medvedev again stressed that the accusations of corruption can only be proved by court.The PM also said that he had previously received reports on corruption in the power circles and he instructed investigators to dig into the situation, but stressed that any prosecution must be backed by solid proof. "I have given direct instructions on a whole number of reports connected with some problems in state structures' activities. These direct instructions transformed into criminal cases. This is normal," Medvedev said. He stressed the fight against corruption must not become a fight against the state officials as a class. "By doing so you give the people a feeling that everyone who works in state structures are not completely honest or simply are thieves that cannot be trusted. This would be absolutely wrong as overwhelming majority of those who work in state structures are normal, decent people," Medvedev stated.Russia to continue the anti-corruption driveThe Prime Minister said Russian authorities would continue the fight against corruption and it would not be limited to high profile cases. Medvedev added the recent scandals were a result of a combination of two major trends – the public demand for fighting corruption and the creation of a legal base together with political determination. At the same time Medvedev promised the campaign will not be limited to the higher level, but will spread to the numerous cases of everyday corruption, even though these crimes are extremely hard to prove. "I have always said that if we ourselves have no urge to start the fight against corruption, no one will do it for us," the Prime Minister concluded.
Medvedev denies repressive trends in politicsThe Prime Minister denied the Kremlin has started 'tightening the screws' after Vladimir Putin's return to the presidential chair. The government has been specifically criticized for adopting new laws on libel, 'foreign agents,' high treason and the so called 'anti-rally' legislation – which opponents see as repressive."I don't consider these laws reactionary," Dmitry Medvedev underlined. He recalled that as President he also passed bills aimed at toughening responsibility for some actions. "But you don't say that the legislation in that period of time was repressive or reactionary, do you?" One can judge on a political regime only by deeds that come as a result of adopted laws. "If they are wrong, if they hurt citizens' interests, then they have to be corrected. But that's not the case yet," the head of the government pointed out. He said that mass protests that followed last December's parliamentary vote revealed the previous laws had to be altered they did not work appropriately and could not provide safety for everyone. A responsible leader of any political party must make sure that one's supporters do not go to jail and explain to them what is allowed and what is not, Medvedev believes. "If a person is ready to hit a policeman, one should understand that he will bear responsibility for that. And it doesn't matter what party one represents at a rally: ruling, opposition, a party represented in the parliament or a party that is not," he stressed. "Agent doesn't mean a spy"As for the law that labels foreign-funded NGOs involved in politics as foreign agents, Medvedev said that Russia is only searching for forms to regulate such activities. "It's at least wrong to immediately suspect that the government [adopted the law] in order to prevent some activities or to simply throw a stranglehold over NGOs because nothing of a kind have happened so far," he stated. The point is only to introduce additional control over organizations that get funding from abroad, as internal policy is a state's sovereign affair, Medvedev underlined.There is no insult in the "agent" term, which is often use in legal practices and means "a representative," the premier observed. "It's not a spy," he pointed out. The PM also said that he respects such human rights organizations as Memorial, Moscow Helsinki Group and Transparency International that show the government its mistakes. "Not always we agreed, we often argued, but over all their activity is useful for the country," Medvedev observed. "They point to the government at flaws and problems," he added. Medvedev also said that he shares lawmakers' decision to re-criminalize libel, given that financial liability rather than a jail term has been introduced for this offence. No need for anti-gay lawsAnswering a question about the legislative ban on gay propaganda submitted by one of the internet users Medvedev said that he personally considered such a bill as unnecessary as "not all relations between people can be regulated by law". Medvedev, who is the head of Russia's parliamentary majority United Russia added that the party shared this opinion. The bill on administrative responsibility for propaganda of homosexuality among minors was submitted to the Lower House in late March this year. The first hearing on the bill is scheduled for mid-December. Previously, several Russian regions adopted similar laws on a local level, drawing criticism from gay activists and human rights campaigners.
You can share this story on social media: