Medvedev welcomes Obama, says good riddance to 'paranoid' Romney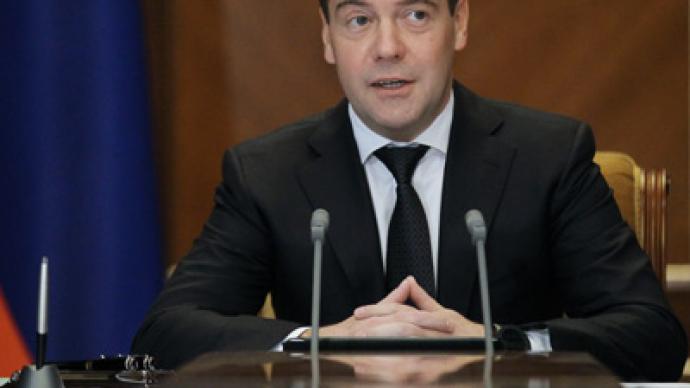 Prime Minister Dmitry Medvedev has congratulated US President Barack Obama on his re-election victory, while expressing relief that Moscow will not have to deal with the Republican challenger.
"Congratulations!" Medvedev tweeted in English to Barack Obama, who emerged victorious in a tight race against Mitt Romney."Obama is an understandable and predictable partner," Medvedev told reporters on Wednesday. "Obama has been a quite successful president." Meanwhile, the Russian premier expressed his relief that Republican candidate Mitt Romney, known for his anti-Russia outbursts on the campaign trail, had lost the election. "I am glad that the man who calls Russia its No. 1 foe will not be the president of this large and influential state," Medvedev said. "That is paranoid." Moscow and Washington, which declared a "reset" in relations in 2009, are working to overcome a number of bilateral hurdles, including the NATO missile defense system in Eastern Europe, which Russia views as a threat to its national security, as well as how to resolve the years-long Syrian conflict. Later, an official congratulation followed the emotional message.Dmitry Peskov, the Russian leader's press secretary, told reporters that President Vladimir Putin has sent a congratulatory message to Barack Obama, together with an invitation to visit Moscow in 2013.Peskov said it is anticipated that the Russian leader will congratulate Barack Obama on his victory in a personal telephone conversation "in the near future."
You can share this story on social media: