Medvedev and Abbas talk peace in Moscow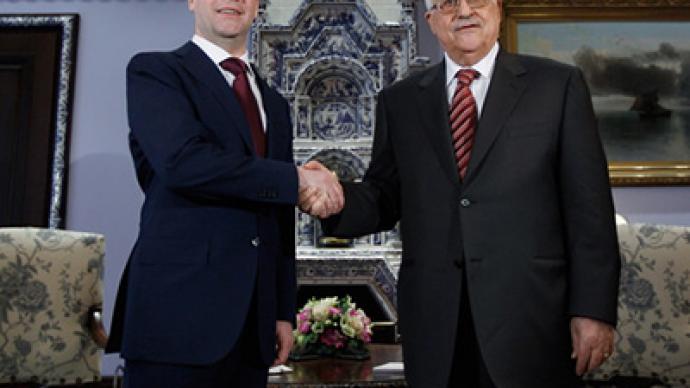 In the run up to Quartet talks scheduled for next month, Russian President Dmitry Medvedev on Tuesday met with the head of the Palestinian National Authority Mahmoud Abbas in his residence Gorki, outside of Moscow.
The talks were held in view of the forthcoming session of the so called Quartet on the Middle East – comprised of the United Nations, the United States, Russia and the EU – which is scheduled to take place in Moscow in April. The Quartet's last session ended without result as the Israeli and Palestinian sides could not agree on their stance over Israeli settlement policy. Abbas stressed that the Palestinians were not going to abandon the peace process despite the tumultuous events that have been shaking the Arab world over the past two months."Indeed, what is happening today is effecting us directly, but we will not reject this  peace process and will continue efforts aimed at securing fair peace between the Palestinians  and the Israelis," Abbas told reporters following his talks with the Russian President.Saying that the events in the Arab countries were "affecting us directly," the Palestinian leader said he would like to discuss the current events in North Africa and the Arab world with the Russian president."One needs to closely follow these events in order to be able to understand where they will get us," Abbas said. "If they lead to democracy, it will be a positive welcome development."The Russian President reiterated that his country will continue to contribute to the resolution of the Palestinian-Israeli standoff despite the growing tensions in the region. "Some time has already passed since my visit to the Palestinian territories," Medvedev told reporters gathered at his countryside home in Gorki. "Regrettably, the situation in  the Middle  East and North Africa has not become easier recently, but it has aggravated considerably."The Russian leader added that it is important that we "exchange our views on how the ongoing events in the Arab world could influence the Middle East settlement process."Abbas also said he hoped that the Hamas movement would support his initiative on internal Palestinian settlement and this will allow a date to be established for presidential and parliamentary elections. Tuesday's talks were the second meeting between Abbas and Medvedev this year. The Russian leader visited the Palestinian territories in January during his official visit to the Middle East, and held talks with the leaders of the Palestinian National Authority in the city of Jericho.
You can share this story on social media: