Magnitsky was an accountant, not a truth seeker - Medvedev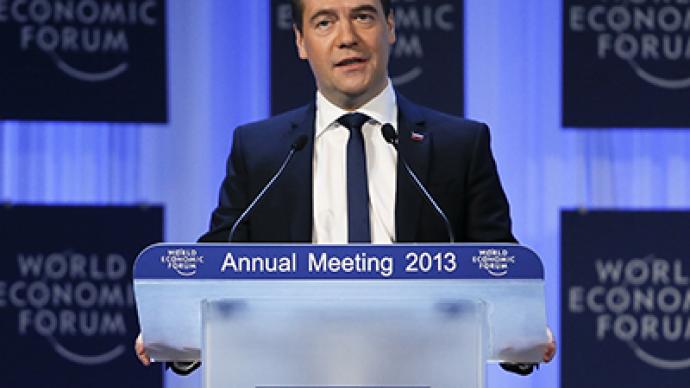 The whole story of Sergey Magnitsky is politicized fiction as this corporate executive had never been a truth-seeker, Russian PM Dmitry Medvedev said in an interview in Davos.
"He was a corporate lawyer or an accountant and he defended the interests of the people who hired him. He was not a truth seeker," Medvedev told Bloomberg television. "Nevertheless, I feel pity for him as this man died in prison," the Russian PM added.Medvedev said it was very important to understand the reasons for this death and this was the real objective for the state and the rest was "politicized fiction of certain people" created to justify these people's commercial activities in Russia.He then accused these people of first making billions of dollars by trading in Russian assets and assuming a political position only after law enforcers uncovered a fraud.Sergey Magnitsky died in a Moscow prison in November 2009 while in pre-trial custody on charges involving a major tax evasion scheme. A number of prison staff were fired and two doctors were tried and sentenced for criminal negligence over this death. However, Magnitsky's former employers, the British investment fund Hermitage Capital and its head William Browder claim that Magnitsky was investigating fraud committed by several top Russian police and tax officials and was killed because he refused to stop. Browder's efforts eventually led to the United States introducing the so called Magnitsky Act – a set of sanctions applied to a group of Russian officials allegedly complicit in Magnitsky's death and other Human Rights violations.Medvedev said in the same interview that Russia had managed to create a legal framework for fighting corruption and this system is already yielding results. Law enforcers have started about 50,000 criminal cases involving corruption, Medvedev added that he expected a considerable part of these cases to be forwarded to courts and end up in convictions.No competition with Putin in 2018Medvedev said he did not plan to take part in the 2018 Russian presidential elections if Vladimir Putin chooses to run for another term. The Prime Minister explained that he considered this wrong and impossible as he and Putin represented the same political force and thus could not compete. At the same time, Medvedev noted that he was not completely giving up presidential ambitions, reiterating the statement made to the French media in November 2012 that he did not rule out participation in a future presidential race if he has enough strength and health. Medvedev was elected Russian President in 2008 with the full support and blessing of Vladimir Putin who could not run for a third consecutive term despite strong voters' support. Medvedev ruled Russia for four years in close cooperation with Putin who became the Prime Minister at that time. In March 2012 Putin was re-elected president and appointed Medvedev, who already headed the country's most popular political party United Russia, as chairman of the government. Putin has not made any statements on possible participation in the 2018 presidential poll yet.
You can share this story on social media: