Putin on Magnitsky Act: Why do those behind Guantanamo lecture us on human rights?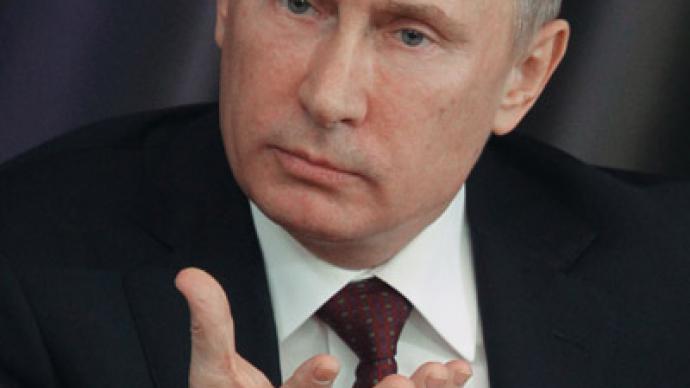 Vladimir Putin has lashed out at the US's Magnitsky Act dubbing it "a purely political, unfriendly move."
The President has approved the speeding up a counter list addressing American foster parents guilty of abusing Russian orphans."We should certainly react [to the bill] appropriately," Vladimir Putin said, welcoming the State Duma's initiative regarding the sanctions list against US nationals. "We should make sure that our decisions are adequate, but not exorbitant," he underlined. Earlier this month, Russian lawmakers suggested preparing a list of Americans who have violated the rights of Russian children adopted into US families. They said they will name their law after Dima Yakovlev – a two-year-old boy who died after being locked in a car by his adoptive father on a hot day in 2008. But the law might see a broader application since the draft has officially been named "Enforcement actions on people involved in violating human rights of Russian Federation citizens".The move comes in response to a US list of sanctions, the so-called Magnitsky list, which is expected to be signed into law by the end of the week. The act imposes visa bans and asset freezes on Russian officials allegedly involved in the death of Russian anti-corruption lawyer Sergey Magnitsky and in other human rights abuses in the country. The 37-year-old died in a Moscow pre-trial detention center in November 2009.The Russian President believes that the American Magnitsky law is most likely the result of internal political wrangling in the US."But I don't understand why Russian-US relations are sacrificed for the sake of domestic policies," Putin noted on Thursday. Washington speaks about the 'reset' and, at the same time, aggravates the situation, he added. Putin: Guantanamo prisoners face cruelty worthy of 'Middle Ages'The President noted that American jails also see their prisoners die."Why, don't people die in their prisons as well? Perhaps, even more than in ours," he said.Despite promises by the US leadership, the Guantanamo Bay detention camp is still operating."People are kept there without trial – in shackles and chains just like in the Middle Ages," Putin remarked and now, he continued, people "who opened secret prisons and legalized torture during investigations" point out Russia's  shortcomings.As for the death of Magnitsky, Putin expressed his regret for the tragedy, but noted that the investigation into the case is not over and it is yet to be found who is to blame for the incident.US reaction to deaths of kids adopted in Russia 'even worse' than deathsAs the meeting gradually switched to the problem of Russian orphans dying in foreign foster families, Putin slammed American authorities for their slack reaction of the incidents."We are indignant not so much at these tragedies – even though it's the worst thing that can happen – as at the reaction of the [US] government, a vindicatory reaction. That's what is bad," Vladimir Putin said on Thursday.American judicial authorities hardly respond to cases of abuse of Russian children by their American adoptive parents, the Russian President stated. On the contrary, US courts justify such crimes and acquit those guilty of charges against them, Putin added. Moscow has repeatedly criticized the US for applying "double standards" in dealing with Russian child abuse cases.Russian officials claim that at least 19 Russian children have been killed by their foster parents in the US since the early 1990s, when adoption began.Adoptions between Russia and the US were frozen between 2010 and 2012. The incident which led to this was a 2010 case when an American adoptive mother put her 7-year-old son back on a plane to Russia saying he was no longer wanted. Now an agreement, signed by the two countries, obliges US parents who want to adopt Russian children to take foster parent courses. The agreement also confirms that Russian children keep their Russian citizenship until they are 18- and oversees situations where Americans no longer want a child.
You can share this story on social media: