Ukraine's ex-Interior Minister to remain in custody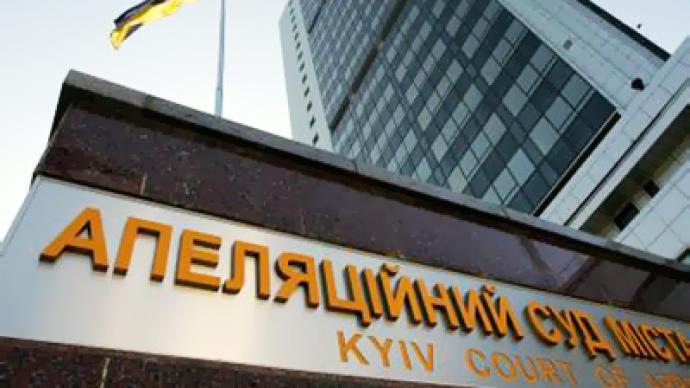 Kiev's Court of Appeal has refused to release Ukraine's former Interior Minister under a travel ban. Yury Lutsenko's lawyer said his client is likely to appeal the decision in Strasbourg.
On Wednesday the judge announced that there were no reasons to annul an earlier court ruling, which means that Lutsenko will remain in custody. Speaking before the court, the suspect promised not to leave Ukraine. "I declare it officially that I have never taken flight and I will never do so. I have never hidden behind others' backs and I am not going to," he said, as cited by RIA Novosti.However, neither Lutsenko's word nor a protest organized by his supporters outside the court building made the judge overturn the decision.The ex-minister's lawyer, Igor Fomin, did not rule out that they might now file an appeal at the European Court of Human Rights in Strasbourg.Talking to journalists after the court session he added that "the court did not listen and did not want to hear" the advocates' stance. On December 13, Lutsenko and his former driver Leonid Prystupliuk were charged with largescale embezzlement of budgetary funds, as well as abuse of power and use of forged documents. In addition, a second criminal case was opened against the former minister on charges of abuse of power and abuse of office. On December 26, Lutsenko was detained near his house. The following day, Kiev's Pechersky District Court ruled to jail him for two months since as "the accused did not come to the investigator, grossly violating the demands envisaged by a travel ban," reported Interfax. Former Prime Minister and opposition leader Yulia Timoshenko – who was at the court on Wednesday to support her former teammate – stated that the case against Lutsenko is politically motivated and reflects a further crackdown on freedom and human rights in the country.Later in the day, Ukraine's Iron Lady – who is also now under criminal investigation – arrived at the Prosecutor General's Office for questioning."Today, I start to study the case and they will present me 17 volumes of the case, which alleges that our government paid pensions during the crisis at the expense of Kyoto money, environmental funds," Timoshenko told journalists before entering the prosecutor's office.The former prime minister is accused of abuse of power with grave consequences – the misuse of 380 million euros that Ukraine had received as payment for its green gas quotas under the Kyoto agreement. According to investigators, the state budget lost about 1 million hryvnas (about US$125,000) due to these operations.Timoshenko is currently under a travel ban and prosecutors said on Wednesday they see no need for her to be in custody.
You can share this story on social media: