Billionaire Belarusian president offered US pension?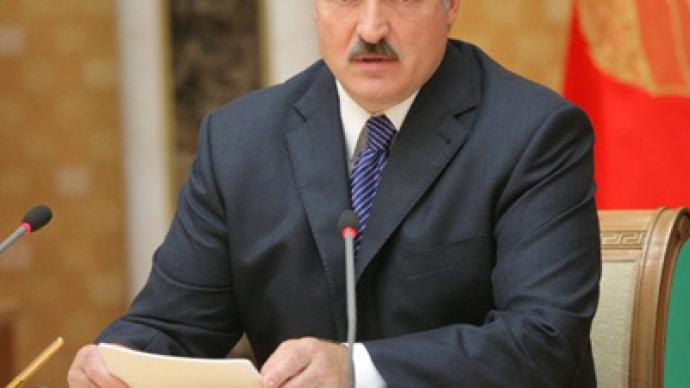 Belarusian President Lukashenko has claimed the US attempted to bribe him and assured that he would never betray either his own people or the Russians. But can he really be trusted or is it just yet another tangled web spun by an opportunist?
On Friday, the former Soviet Republic's leader spoke to Russian journalists at a media conference in the capital, Minsk. Lukashenko was speaking in his traditional manner – with powerful epithets, convincingly and emotionally – though not always directly answering the questions. Among other things, during the meeting that lasted for about four hours, Aleksandr Lukashenko claimed that the US tried to tempt him by promises of carefree existence in his old age in exchange for adhering to a number of conditions. Last week, he said, "one of our people, who supposedly has access to me, was invited and asked to tell me the following: 'We will give everything to your president from the American side, including [a carefree] old age, as [we did] to the [former] President of Ukraine," Interfax cites. According to Lukashenko, the person picked to be a negotiator refused even to discuss the topic.The conditions, writes naviny.by website, were quite clear: Lukashenko would have to step down.Whether Americans really did make such a proposal or the Belarusian leader is playing his own game by making these statements is a different story. (Although Americans are well-known for being rather generous with money, as well as other convincing instruments, when it comes to establishing democracy in other countries, or saving the world in general.) In any case, it is unlikely that a mere pension would sound particularly tempting to a person who is currently enjoying his fourth term in office since 1994. Even though he keeps maintaining that he does not hold on to the presidential seat because of power and money, very few would believe that his only motivation is patriotism and care for the country. (That is hardly ever a motivation for any political figure, is it?).It is also alleged that the Lukashenko family is doing quite well financially with their fortune estimated at around $8-12 billion. At least that is what Russia's NTV channel journalists discovered in their last year's documentary called "God Father (Bat'ka)-3". The film portrayed the Belarusian president as a fierce dictator, oppressing and disposing of his opponents, and also controlling the entire business in the country.On Friday, he yet again assured the journalists that his presidency is not about power and money "as you sometimes write in Russia.""If only I was confident and knew that today 80 per cent of Belarusians hate Lukashenko, I would say: 'Thank you brothers…I will manage to make my living," he stated, quoted Belarusian BelTA news agency. That is an interesting comment. So, if let's say only about 25 per cent do not hate him, that would be enough to secure yet another term in office through, of course, yet another "fair" election? Last year's presidential election – which brought Lukashenko a landslide victory – was also talked about at the conference. The opposition claimed the election results were falsified and demanded a new vote, but without Lukashenko's participation. The protest was violently suppressed by police and about 700 people, including former presidential candidates, were arrested. President Lukashenko accused the West of funding the opposition protests."For them I'm someone who represents a different ideology, they will never recognize me. Never," he said, cited Interfax. "They don't give a damn that Lukashenko is not corrupt. No wonder – they're all a lot of crooks over there, they're all corrupt," he added. "It's a lot of spin that that they're fighting corruption," Lukashenko noted. "Think of Saudi Arabia, monarchical countries, Britain. How can you say [Belarus] has an undemocratic political system if you compare it to some states that are being treated as cronies and get natural gas and oil bought from them," Lukashenko said. During his years in big politics, Lukashenko has constantly been maneuvering between the East and the West in his foreign policy. Just like a weathercock, Lukashenko is either flirting with Western powers or pledging eternal friendship with Russia.At this particular moment of time, apparently, the Belarusian leader is leaning slightly more towards Russia than the US and the EU, to neither of which Lukashenko and his inner circle are welcomed. The opposition website Charter'97 reports that according to a source at the German Chancellor Angela Merkel's office, sanctions against the Belarusian regime may be toughened further if Minsk does not change its current policy. "Lukashenko has never betrayed and will never betray not only Belarusians but also the Russian people," he said on Friday of himself. He also denied having any personal tensions with the Russian leadership. "I don't have any interpersonal factors in my relationships with the Russian leaders…Yes, we did have some mixed moments in our relationships, but not because Lukashenko has a nasty temper," he told the Russian journalists. He added that in conflict situations he had acted as a president who "is responsible for his country, for people, for our Russian brothers [Russians living in Belarus], who matter to Russia as well."Indeed, this relationship is not all about being neighbors and "brothers". When a currency crisis swept through the republic earlier this year, Minsk asked Russia and the International Monetary Fund for a bailout. In May though, Lukashenko ordered the shutdown of a number of foreign media outlets, including those of Russian origin, for stirring up "hysteria" over the crisis. In response, to cool Lukashenko down, the Kremlin reportedly warned that Russia's plan to help Belarus with US$3 billion might be scuttled if that order was put into practice. And only a year later, when Lukashenko had once again had lost ground in Moscow, he turned to the Kremlin's foes and was enjoying warm relations with his former critic, Georgian leader Mikhail Saakashvili. In July 2010, the two leaders met in Crimea at the celebrations of Viktor Yanukovich's 60th birthday. Later last summer, the Belarusian state TV channel showed "Timely Interview" with Saakashvili. The main focus, quite predictably, was on relations between Russia and Georgia. Saakashvili accused his country's neighbor of "imperial ambitions" and claimed they cannot understand what Russia wants.Lukashenko's move in giving the interview with Saakashvili was not welcomed in Moscow. Russian State Duma Speaker Boris Gryzlov has slammed Minsk's step as unfriendly.Now Lukashenko seems to have turned his face back to Russia. But how long will it last for before his policies make yet another U-turn. Perhaps when the wind changes?
Natalia Makarova, RT
You can share this story on social media: