A long, strange trip for "defected" Iranian scientist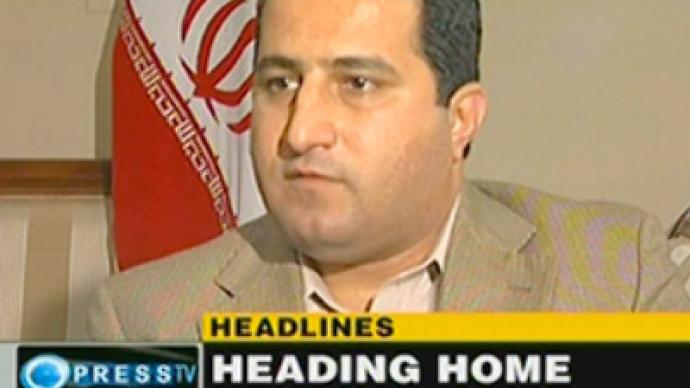 In March, US media reported on the "defection" of Shahram Amiri, an Iranian nuclear scientist who went missing in Saudi Arabia who is now accusing US officials of abducting him.
Amiri, who has been described as an "award-winning nuclear physicist," went missing last June shortly after arriving in Saudi Arabia on a pilgrimage, according to the Iranian government. The Iranian scientist is believed to have worked at Tehran's Malek Ashtar University, which is closely connected to Iran's Revolutionary Guard.
Now Amiri, 34, is on a jet plane back to Iran, claiming the United States "abducted" him.
In March, ABC News was the first horse out of the gate when it reported on an "intelligence coup," alleging that Shahram Amiri "has defected to the CIA and been resettled in the United States."
"The significance of the coup will depend on how much the scientist knew in the compartmentalized Iranian nuclear program," said former White House counter-terrorism official Richard Clarke, an ABC News consultant. "Just taking one scientist out of the program will not really disrupt it."
Meanwhile, Amiri's wife and other family members protested outside the Saudi embassy in Tehran at the time of the coup, claiming that Amiri had been abducted. She said she had last spoken to him on June 3 [2009], while he was in Medina, Saudi Arabia. She told the Iranian news agency ISNA that Amiri reported that he had been questioned by police in Saudi Arabia.
But the US media made it sound as if Amiri had jumped the fence on his own accord, albeit with a bit of prodding by the intelligence community.
"Since the late 1990s, the CIA has attempted to recruit Iranian scientists and officials through contacts made with relatives living in the United States," according to the ABC News exclusive report, which cited former US intelligence officials. "Case officers have been assigned to conduct hundreds of interviews with Iranian-Americans in the Los Angeles area in particular…"
The "defection" of Shahram Amiri was celebrated as an "intelligence coup" in the US media given the fact that many countries, including the US and Israel, suspect Tehran of developing a nuclear weapon under the guise of a civilian energy program. But there is just one problem with the news of Amiri's defection: today he is proclaiming that he was "abducted" by the CIA and even subjected to "psychological warfare."
On Monday evening, Amiri appeared at the Iranian Interests Section of the Pakistani Embassy in Washington, which oversees Iranian affairs in the US capital, and asked to be repatriated. Iranian media immediately jumped at the news, calling it an Anmerican "propaganda campaign."
On Wednesday, Iran's Press TV reported: "Analysts say US intelligence officials decided to release Amiri after they failed to advance their propaganda campaign against Iran's nuclear program via fabricating interviews with the Iranian national."
Iranian television showed footage of Amiri in what it said was an interview inside of the Pakistan Embassy on Tuesday. He told his interviewer he had been under "psychological pressure" in the United States and had been offered financial incentives to say that he had come to America voluntarily to turn over a set of documents that were shown to him on a laptop.
He refused to cooperate, he said.
Iranian media quoted foreign ministry spokesman Ramin Mehmanparast as saying Amiri would travel back to Iran though a "third country" since there are no direct flights to Iran from the United States.
So what really happened to Shahram Amiri, and how did he find himself in the United States, allegedly against his will? The bizarre story only gets stranger considering past YouTube video appearances of the Iranian scientist.
In June, Amiri appeared in three videos that provide conflicting stories about how he had arrived in the US. In the first video, he is heard saying that he had been kidnapped by CIA and Saudi agents while on a pilgrimage in Medina. In the second message he states that he was living freely in Arizona, while in the third video that he had escaped from his captors.
Meanwhile, despite earlier reports of an "intelligence coup," US officials repeatedly said it had no information about Amiri.
On Tuesday, US Secretary of State Hillary Clinton acknowledged publicly for the first time that the Iranian scientist was in the US – but she denied allegations of abduction.
"Mr. Amiri has been in the United States of his own free will and he is free to go," Clinton said.
Whatever is the real truth behind this mystery, it is certain that Iranian officials will use it to their full advantage, painting the US and Israel as culprits in an blotched defection effort to prove that the Islamic Republic is developing a nuclear weapons program.
In related news, Russian Energy Minister Sergei Shmatko said on Wednesday that international sanctions against Iran will not hinder plans to develop joint energy and power projects with the Islamic Republic, Reuters reported.
Shmatko also said he saw no obstacles for Russian firms to supply oil products to Iran if they decided to do so.
The two countries announced their intention "to study opportunities for establishing a joint bank to finance oil, gas and petrochemical projects," Itar-Tass reported.
You can share this story on social media: