Moscow expects Obama to reject new Iran sanctions – Lavrov
Published time: 23 May, 2012 11:37
Edited time: 23 May, 2012 15:37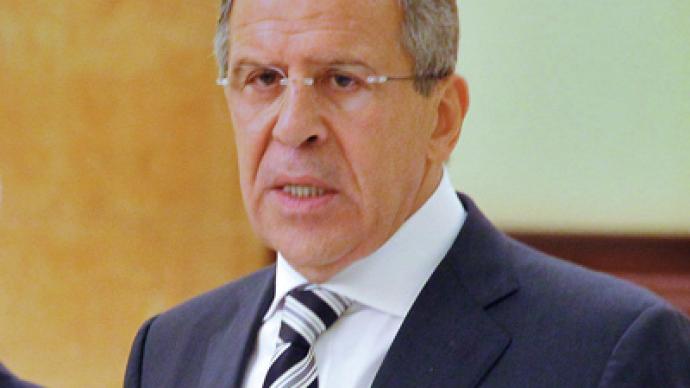 As international negotiations continue with Tehran over its compliance with a nuclear oversight regime, Russia says it's the wrong time for Washington to impose any new sanctions on the Islamic Republic.
­Moscow expects US President Barack Obama to turn down new unilateral sanctions against Iran, which were passed by the US House of Representatives, Foreign Minister Sergey Lavrov said.
"I hope this excessive stance by the US lawmakers will ultimately meet a responsible attitude by the US administration and the US president," Lavrov said at a press conference in Moscow on Wednesday.
Russia is anticipating positive results from a meeting in Baghdad for an acceptable resolution to the Iranian nuclear program, which has attracted the suspicions of several countries regarding Tehran's true intentions.  
"As Iran takes a step toward the global community, the world community should take steps for weaker sanctions against Iran," the minister noted.
The negotiations between the Sixtet (five permanent members of the UN Security Council and Germany) and Iran begin in Baghdad on Wednesday. The discussions will focus on ways for Iran to remove suspicions that it is attempting to develop nuclear weapons under the guise of a civilian atomic energy program.
Israel and the United States have stated in the past that "all options are on the table" if it is determined that Tehran is developing nuclear weapons. Some analysts fear that a unilateral Israeli preemptive strike against Iran could happen as early as the end of the year, following US presidential elections.
Tehran, meanwhile, remains defiant in the face of a possible attack, although experts view the tough talk as a means of retreating from the country's nuclear position while saving political face.
Unilateral sanctions that the United States might impose on Iran "would not facilitate the work of the six powers and unity of our actions," Lavrov stressed.