Lavrov looking to clear away London fog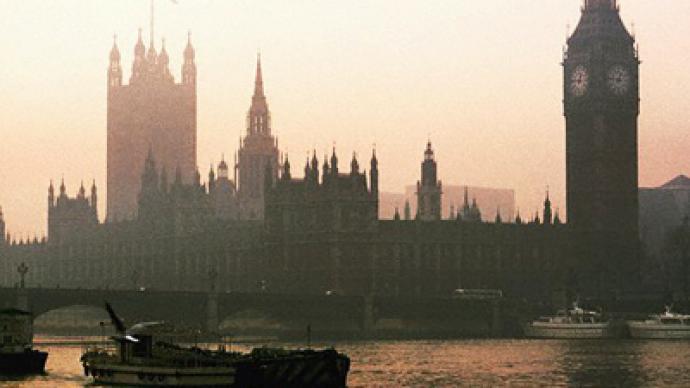 In an effort to close a dark chapter in their oftentimes tumultuous relationship, Russian Foreign Minister Sergei Lavrov is in London for talks - and just maybe a Russian-UK reset.
The last time a Russian government official stepped foot in London the year was 2006: Tony Blair was prime minister, George W. Bush was knee-deep in sand in his War on Terror, while UK tabloids were headlining the mysterious poisoning of Alexander Litvinenko, a former Russian security officer who died in a London hospital.Today, David Cameron is residing at 10 Downing Street, US President Barack Obama is attempting to undue the damage of the Bush years, while even a modern-day Sherlock Holmes would be hard-pressed to unravel the web of political intrigue behind the death of Mr. Litvinenko.Whether this change in the political waters will bring UK-Russian relations back to some level of normalcy will be the object of Lavrov's high-level talks with his British hosts.William Hague, head of the British Foreign Office was upbeat about improving relations with Russia, saying it is "undoubtedly on an improving trend."According to James Sherr, Senior Fellow, Russia and Eurasia Programme, writing for Chatham House, "The UK's aims are modest: to review and diminish obstacles to a 'normal' relationship between significant partners." Last week, however, things were already off to a rocky start when a Moscow-based reporter with The Guardian was denied entry into Russia. When Luke Harding was informed at the border that "Russia is closed for you" and then placed "in a cell for 45 minutes" before being sent back home, British tabloids went into panic mode. They speculated that the "deportation" – practically indistinguishable from a page torn from Solzhenitsyn – was retaliation for an article Harding had written (regurgitated from the Wikileaks document-dumping site) that labeled modern Russia as a "virtual mafia state."The truth, however, was far less sensational: Harding was simply sloppy with his accreditation papers. As the Russian Foreign Ministry stated last week, the British journalist was denied entry in Russia "for numerous violations of the accreditation rules for foreign correspondents, which the Russian government approved in 1994 and which all journalists were well aware of." Burned by a bureaucratic technicality, Harding left Moscow for London on private business without receiving a foreign correspondent accreditation card, "though he was fully aware that he should have done so," the Russian Foreign Ministry reported.This latest flap of turbulence in UK-Russian relations came shortly after Russian-native Katia Zatuliveter, who was employed in the office of Mike Hancock, a member of the House of Commons Defense Committee, was detained in December on suspicion of working for Russian intelligence.On Friday, Zatuliveter, 25, "had her bail conditions relaxed so she can apply for work, including a role working for Russian television," The Guardian reported.Down with RevolutionDuring a press conference following talks with William Hague, head of the British Foreign Office, Lavrov discussed events in Egypt and Tunisia, stressing the "harmful nature of calls for revolutions." Perhaps his words were also aimed at Boris Berezovsky when he added that Russia has already "lived through several revolutions – it's enough for us.""Moscow proceeds from the premise that the main thing for the international community and for outside players is not to interfere in a situation with advices which sometimes assume radical nature," Lavrov told the press conference assembled at the London School of Economics. "We in Russia have lived through several revolutions – it's enough for us. I believe that there is no need to draw others into them."His British counterpart pointed out the irony of the Iranian authorities supporting the Egyptian demonstrations while cracking down on protesters in their own land."On the situation in Iran and the Middle East, of course it is interesting that Iran advocated the right to protest in Egypt but clearly does not believe in that right in Iran and so there is shameless hypocrisy here in the case of the Iranian authorities," he said.The Russian Foreign Minister added that that unsettling events in Egypt, Tunisia, and other countries of the region should not lead to the collapse of the Middle East peace process."It would be a big mistake," Lavrov warned. "The sooner we reach a positive result in the peace process, the better it will be for the region." Lavrov reminded the attendees that the next meeting of the Quartet on the Middle East will be held in Paris next month."The next meeting of the Quartet will be held in Paris in a month," he said."We will see how things are going [in the Middle East]."The Quartet, which is committed to finding a two-state solution to the Israeli-Palestinian standoff, is comprised of the United States, Russia, the European Union, and the United Nations.On the Terrorist FrontThe British authorities are interested in expanding cooperation with Russia in fighting organized crime and extremism, British Foreign Secretary William Hague said.We can expand cooperation in reassigning organized crime and radical elements, hesaid at a press conference following his London talks with his Russian counterpart on Tuesday.Hague admitted that at the present time in their mutual relations, Russia and the UK have not taken any concrete actions in this direction.Lavrov then expressed Russia's interest in cooperating with Great Britain in the fight against organized crime, extremism and terrorism, especially in light of upcoming international events set to be held by both states."We discussed issues of intensifying our interaction in the directions that are possible today. Organized crime is undoubtedly one of them," he said.Russia and Great Britain could cooperate in guaranteeing security at major sporting events, such as the 2012 Olympic Games in London and the 2014 Olympic Games in Sochi."For us, Great Britain is a partner for the Russia-NATO council, for the relations between Russia and the EU and in this framework, and in the framework of the OC (Olympic Charter)," Lavrov said. "We pay special attention to European security… and are convinced that we need to lay the solid legal foundation for political obligations to ensure security for everybody." The Russian Foreign Minister then alluded to an initiative by President Dmitry Medvedev to conclude a treaty on security in the Euro-Atlantic sphere. Finally, the two men signed a document that agrees to improve a secure communications link between London's Downing Street and the Kremlin, Hague said. Up with the Economy To underscore the importance of UK-Russia trade, Hague said he and Lavrov would attend a whisky tasting event at the exclusive wine producer Berry Bros. and Rudd, which is part of Britain's hopes of boosting exports amidst a downturn in the economy.Since the collapse of the Soviet Union in 1991, British companies have accounted for $18.9 billion of the $266 billion in foreign investment that Russia has attracted. Meanwhile, the United Kingdom is the sixth most popular destination for Russian investment, with nearly $3 billion as of September 2010. British oil giant BP has been operating in Russia through its TNK-BP joint venture since 2003.Last month, BP won more direct access to Russian oil, reaching a share-swap deal with state-controlled Rosneft under which the consortium will conduct oil exploration in the Arctic. Energy experts say the region under consideration, not to mention a lot of ice, may hold billions of barrels of oil and gas.Presently, more than 1,000 British companies operate in Russia in industries as diverse as retail, food production and manufacturing.Meanwhile, for Russian companies, London remains the preferred venue for selling billions of dollars worth of stocks and bonds.Considering the many billions of dollars involved in the UK-Russian relationship, there is certainly a lot of reason for London and Moscow to put the past behind them and look to the bright future.On a final note, Lavrov confirmed he would deliver Russian President Dmitry Medvedev's personal invitation to UK Prime Minister Cameron to visit Moscow later this year.A Turbulent HistoryJanuary, 2006: Russia's state security service, the FSB, charged British diplomats of spying in Moscow. The claims were backed up a Russian TV report that showed footage of British agents retrieving data from a hi-tech "spy rock" planted on the side of a street. The program also said a UK diplomat made regular payments to Russian non-governmental organizations (NGOs). Prime Minister Tony Blair refused to comment on the Russian claims.November 2006: Alexander Litvinenko, a former Russian security officer who defected to the UK in 2000, fell ill on November 1 and was hospitalized in what has been explained as a case of radioactive poisoning by polonium-210. British authorities demanded the extradition of AndreyLugovoy, whom they accused of the murder. Lugovoy, who is now a deputy of the State Duma, strongly denied the accusations, saying British intelligence agents were behind the killing. Moscow says that London has refused to hand over any evidence that would link Lugovoy to the crime.April 2007: British authorities announce that tycoon Boris Berezovsky, who is a wanted man in Russia on charges of embezzlement and money laundering, would not face charges in the UK for telling The Guardian newspaper that he intended to "use force to change this regime." Jack Straw, then UK foreign secretary, told the Commons that "advocating the violent overthrow of a sovereign state is unacceptable" and warned the tycoon he could be stripped of his refugee status.July 2007: In the aftermath of the Litvinenko scandal, Moscow expels four British diplomats in response to London's similar move.
Robert Bridge, RT