Civilians in Libya should be protected - Russian FM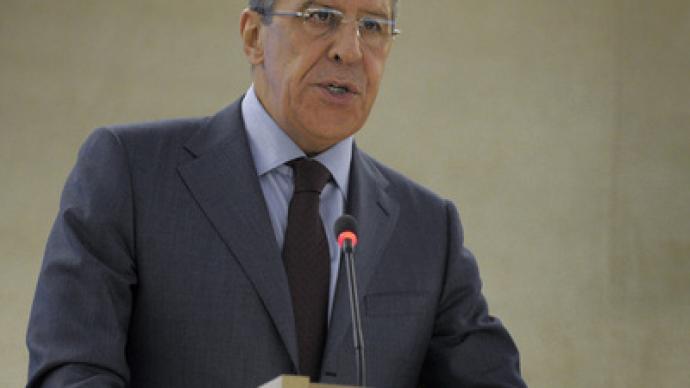 Russian Foreign Minister Sergey Lavrov has demanded that the coalition must strictly abide by the goal of the UN Security Council resolution on Libya.
Russia considers it impermissible to use military force against civilians, Lavrov said after a meeting with Secretary General of the League of Arab States (LAS) Amr Moussa in Cairo on Monday. But the minister stressed that attempts to use military force against one's own fellow citizens, "are totally unacceptable." That is what is going on in Libya at the moment, and Lavrov is discussing the North African crisis on a working visit to Egypt.  The coalition of the countries that are fulfilling the UN Security Council's resolution on Libya must strictly keep to its goal, Lavrov stressed.Russia had joined the consensus of world powers with "the demand for stopping violence against civilians," Lavrov said. He expressed regret that Libyan leader Muammar Gaddafi did not listen to the demands of the world community. Moscow fully shares the position of the LAS that appealed to the UN Security Council for protecting civilians. No one shall undertake "to calculate the consequences of the situation in Libya," Lavrov said. Hopefully, they will be minimal and will not lead to the undermining of the territorial integrity of Libya, and, in the future, the whole region. Not freezing Middle East settlementAccording to Lavrov, Russia and the Arab League's working committee will also convene soon in Cairo. It will be followed by the first Russia-Arab League forum. The Middle East peace process is high on the agenda. The events in North Africa must not stop the Middle East settlement, the foreign minister said. First of all, Russia does not want efforts to unblock negotiations between the Palestinians and Israel to slow down. Moscow also supported the restoration of the inner Palestinian unity. "It was good news for us that the Arab League plans to assist this process more actively," Interfax quoted Lavrov as saying. The Middle East Quartet's ministerial meeting will be held in mid-April. Its participants – Russia, the US, the European Union, and the United Nations – are determined to adopt a document that will include their unambiguous position on the conditions and parameters of direct talks between Israel and the Palestinians, Lavrov noted.The Quartet wants its decisions to be carried out, Lavrov said, adding that hopefully, the parties' reaction will be constructive. The main task is to create conditions for the talks' resumption as a "difficult situation" has formed in the Middle East settlement process, Lavrov noted.  President Dmitry Medvedev recently said that both parties of the Middle East talks "do not hear each other." The situation in the region is deteriorating, and it is even difficult to speak of resuming direct talks. But they are possible at least through mediators, Medvedev said. He confirmed the position that a conference on the Middle East should be held in Moscow.
You can share this story on social media: