Kyrgyz stability hanging by a thread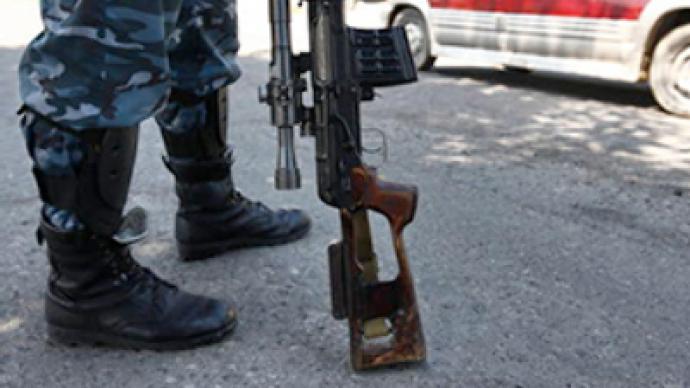 The situation in Kyrgyzstan has somewhat stabilized of late, but new riots cannot be ruled out, according to Collective Security Treaty Organization (CSTO) Secretary General Nikolay Bordyuzha.
"The situation is more or less stable now. This is the result of the creation of a more-or-less legitimate power and the actions taken by the country's law enforcement agencies to ensure control," Bordyuzha told journalists on Thursday.
However, "the likelihood that such events could occur again exists to a certain extent. Especially when it comes to third parties – extremist forces that have arrived in the south of Kyrgyzstan – who are seeking to exacerbate the situation there," he added.
Russian President Dmitry Medvedev has recently echoed concerns about Kyrgyzstan's ability to sustain stability. He acknowledged that the referendum may boost the interim government's legitimacy, but said he did not know how a parliamentary republic would work in Kyrgyzstan.
He also noted that the vote may evoke new problems, such as reshuffles in parliament and power being passed from one political group to another.
"Finally, will this not make it possible for forces with extremist views to take power?" Medvedev said, explaining his concerns. "The most unpleasant of scenarios for Kyrgyzstan is the collapse of the state. To prevent this, the country should have strong and well-organized authorities."
Working on the assumption that tensions in the region still exist below the surface and could result in another violent eruption, Secretary General Nikolay Bordyuzha said the Collective Security Treaty Organization is taking priority measures to facilitate stabilization in Kyrgyzstan, prevent mass disturbances and find the organizers.
"Some types of riot police gear have been delivered already," Bordyuzha said. "This includes special riot gear, equipment and individual types of weapons to be used to break up rallies, as well as means of transportation and helicopters."
CSTO (Collective Security Treaty Organization) member countries are also still deciding on what other kinds of aid they could provide to Kyrgyzstan.
Forces on the ground
In light of the still-shaky situation in Kyrgyzstan, Europe's Permanent Council also began to discuss a proposed police mission last week, but deferred further consideration until its meeting scheduled for today.
Meanwhile, according to Human Rights Watch, it is of utmost importance to deploy a police mission to southern Kyrgyzstan that is large enough to reach all areas affected by the recent violence as soon as possible. HRW has been urging the Organization for Security and Co-operation in Europe's (OSCE) Permanent Council to do so.
"While it's good news that the referendum happened without violence, no one should be lulled into believing that the situation in Kyrgyzstan is resolved," said Rachel Denber, deputy Europe and Central Asia director at Human Rights Watch.
Human Rights Watch officials present in Osh have collected evidence of continuing episodes of organized violence: ethnic Kyrgyz stop ethnic Uzbeks in the street to threaten them and beat them "warning" not to be seen, even in their own city. Members of the organization have also raised "serious and credible evidence" of abuse perpetrated by police and army during security operations, even in recent days.
The humanitarian organization said that last week, Kyrgyzstan's interim government reportedly requested police support from the OSCE. Human Rights Watch also said that the OSCE was considering sending up to 120 international police to the country, but the force may have a mandate limited to training and monitoring and would be unarmed.
As far as the CSTO (Collective Security Treaty Organization) is concerned, it has no plans of setting up a training center for its collective forces in southern Kyrgyzstan.
"There have been no such plans, although the press has circulated this information without any reasons," CSTO Secretary General Nikolay Bordyuzha said, when asked whether the body would open a training center in Osh.
Calls for humanitarian aid
As the CSTO (Collective Security Treaty Organization) and Europe's Permanent Council discuss the deployment of aid to Kyrgyzstan in the form of riot gear and police missions, respectively, the United Nations High Commissioner for Refugees, Antonio Guterres, urged the international community to give more humanitarian aid to help those affected by the recent ethnic clashes.
Guterres, who is currently visiting Kyrgyzstan, told journalists that providing assistance was the only way to prevent renewed violence.
"Uzbeks fleeing to Uzbekistan and telling their stories could pose a threat of revenge attacks against the Kyrgyz in Uzbekistan," Guterres told reporters. "One of the reasons why it is so important to pacify this crisis is to avoid that this becomes a new Balkans."
UN officials say the immediate threat of food and water shortages has largely abated, and emphasis has shifted to providing shelter to thousands of families before the arrival of winter. Six trucks of tents and other aid from Uzbek refugee camps, which have now all been dismantled, crossed the border into Kyrgyzstan on Wednesday.
Meanwhile, Kyrgyzstan's interim government officials and US Assistant Secretary of State for Population, Refugees and Migration, Eric Schwartz, discussed the situation in southern Kyrgyzstan on Thursday.
"In spite of the border being closed, the republic continues to develop, but we can't restore the devastated South on our own," said Kyrgyz Deputy Premier Almazbek Atambayev during the meeting with Schwartz. "The main goal now is to provide housing for those affected," Atambayev added.
During this discussion, Schwartz called for an international investigation of the events that happened in southern Kyrgyzstan on June 10-14. He said, Kyrgyz authorities have assured him they were ready for an unbiased international probe into those events.
Schwartz also said the US government is allocating $32 million to help Kyrgyzstan, and he suggested civil control and international monitoring as a way to assist in the stabilization process.
"An OSCE monitoring mission will be deployed in southern Kyrgyzstan with the assistance of the US government. Independent monitoring will build up confidence of local residents and reduce tensions," he said.
FACT BOX
Following the overthrow of President Kurmanbek Bakiyev, Kyrgyzstan held a referendum on Sunday for constitutional reform. The interim government has put forward two issues: reform to the constitution (the reduction of presidential power) and the confirmation of Roza Otunbaeva as the authorized head of the new government, vesting in her the power of president for a six month transitional period.
Tesa Arcilla, RT
You can share this story on social media: