Will Kyrgyzstan's unrest change the political situation in the country?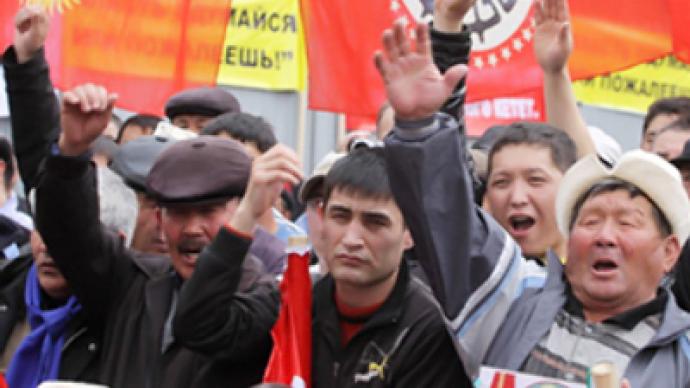 Clashes between protesters and police in Kyrgyzstan have continued on Wednesday, spreading to the capital Bishkek. Human rights organizations have described the situation in the country as "complex."
Earlier on Tuesday, protesters stormed government offices in the north-western city of Talas, briefly taking the local governor hostage. Meanwhile, several opposition leaders have been arrested and some casualties among police and protesters have been reported.
Several thousand opposition supporters are demanding the resignation of President Kurmanbek Bakiyev, accusing him of ordering a media crackdown, rising fuel prices, nepotism and corruption. Bakiyev came to power in 2005 after the "Tulip Revolution" street protests, overthrowing Askar Akayev.
Analyst's opinion
RT asked thefirst vice-president of the Center of Political Technologies, Aleksey Makarkin to comment on the situation:
"The current situation in Kyrgyzstan is connected to the overall historical situation in the country. There has never been a strong authoritative leader who could take the situation in Kyrgyzstan under his control and lead the country," thinks Aleksey Makarkin. In his view, the current president, Bakiyev, and his predecessor, Askar Akayev, are both weak leaders, which he thinks can only exist and successfully rule when there is a real democracy in the country. However, because there is really no democracy in Kyrgyzstan and there is no strong authoritative leader, there is constant political conflict, election results are always being questioned by the opposition and so on, but the authorities are not strong enough to supress this opposition.
"The opposition sees the precedent, in which Bakiyev came to power on the crest of a revolution, and so they are then thinking: why can't we do the same? The problem is that Bakiyev was not an established opposition leader when he overthrew Akayev. He was part of a big coalition and was seen as a compromise figure, and got this post only because of his previous status as Akayev's Prime Minister. But, as often happens, the coalition then fell apart and he became an authoritative leader, but yet not strong enough to control the country. That's why the situation there is unstable and there is a crisis," claims Aleksey Makarkin.
Makarkin also thinks, the question whether the current president will be able to retain power is not really important, because if Bakiyev loses now, then a similar weak leader will come, since, he believes, there is currently no strong and charismatic leader in the opposition that can hold power: "The coalition will nominate a leader, then this leader will try to become an authoritative one, then the opposition will be unhappy, accuse him of a lack of democracy, and everything will begin all over again."
In case Bakiyev is able to remain in his post, then, in Makarkin's view, he still will not be able to "tighten the screws." And, he maintains, it is then inevitable that new unrest will follow sooner or later. Thus, he concludes, in both scenarios the situation will remain unstable until a really strong leader comes.
However, he thinks, whoever comes to power in Kyrgyzstan, relations with Russia will remain the same and they will be very cautious in their external policies. "After the revolution when Akayev was overthrown, many Western analysts were saying that Kyrgyzstan was turning its back to Russia and would be the next Ukraine and Georgia. However, the exact opposite has happened. Bakiyev has continued Akayev's policy towards Russia. So I think whoever comes, the country will try to balance between Russia, China and the West."
Makarkin does not think, however, that the international community will interfere, even if the current conflict drags on, because nobody wants to be a mediator in this conflict and that includes Russia. He says that it is not in Russia's interests to be involved in the situation, because whatever the outcome the mediator will be the one to take the blame.
You can share this story on social media: