Three Kyrgyz parties agree to form coalition government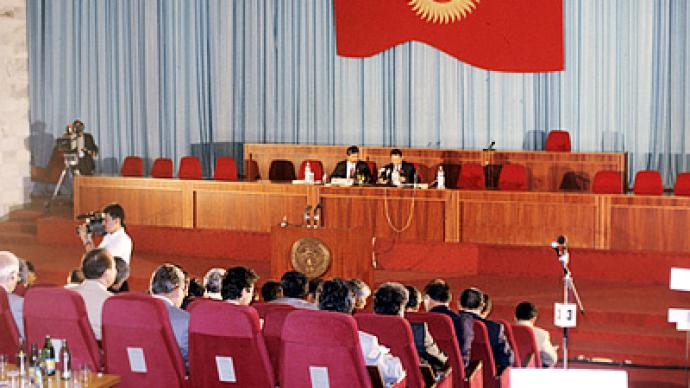 Over two months after elections, Kyrgyz parliament has finally managed to form a ruling coalition and elect its speaker, Akhmatbek Keldibekov, the leader of the Ata-Zhurt (Fatherland) opposition party.
In a bid to create the first parliamentary democracy in Central Asia, three Kyrgyz political factions – the Ata-Zhurt and Respublika opposition parties and the pro-government Social-Democratic Party of Kyrgyzstan (SDPK) – agreed to form a governing coalition on Thursday. It is the second attempt to do so, after a previous alliance collapsed earlier in December over a disagreement on the speaker's candidacy. The new coalition holds 77 out of 120 seats in the republic's parliament.The three factions agreed to nominate Keldibekov to the post of speaker of the parliament, and on Friday his candidacy was approved by the majority of the Jogorku Kenesh. The leader of the Social Democrats, Amazbek Atambayev, was proposed for the prime minister's position and the leader of Respublika, Omurbek Babanov, will seek the post of first deputy premier.The legislative body was elected in the former Soviet republic on October 10. A total of 29 political parties were battling for MPs' seats, but only five managed to make it to the parliament.However, the Central Asian state remained without a government for almost two months as first attempt to form a ruling coalition failed and President Roza Otunbayeva had to ask the Respublika leader to form a new one. The new three-party coalition will share power for the next four years. Under new legislation, the republic's parliament will be the main decision-making body, with the premier wielding more power than the president.It is hoped that the new government will finally bring stability to Kyrgyzstan, following months of unrest after former President Kurmanbek Bakiyev was ousted in a mass revolt in spring this year.
You can share this story on social media: