Kyrgyz authorities ready to calm possible unrest with guns
Published time: 9 Jun, 2011 11:56
Edited time: 9 Jun, 2011 17:43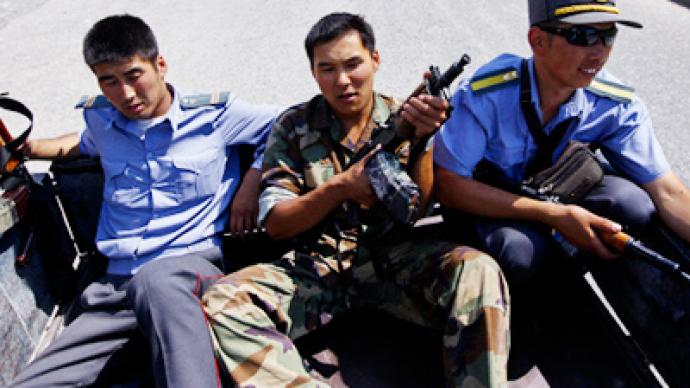 Kyrgyz law enforcers have been given permission to use firearms in case of mass disturbances in the south of the country on the anniversary of last year's deadly clashes in Kyrgyzstan's second-largest city of Osh.
­The statement comes from the deputy Interior Minister Bakyt Alymbekov, Interfax reported, quoting local news agencies.

"Special forces and law enforcement bodies responsible for security in Osh and Jalal-Abad have been given rights to use guns in case of mass disorder without waiting for a decision from the capital Bishkek," the minister told journalists on Thursday.

He added that to provide security for Osh residents the authorities have set up 15 check points, three of which are in the city center where the most deadly clashes took place on June 10 last year.

As a result of interethnic clashes between Kyrgyz people and local Uzbeks in the southern Osh and neighboring Jalal-Abad regions more than 400 were killed and thousands injured. Although no cases of violence have been reported during the year, the situation in the area remains rather tense.

Alymbekov said they expect that there might be provocations on Friday, which has been declared a commemoration day in the country, but stressed that all special forces are on high alert and will not allow the repetition of bloody events.

Commander of Kyrgyz frontier troops Zakir Tilenov also stated that security will be tightened on the border with Uzbekistan, China and Tajikistan where clashes took place in 2010. He added that a hotline has been organized so that citizens can quickly report any violation of the border.

The Collective Security Treaty Organization (CSTO) is ready to interfere if the situation escalates, its General Secretary Nikolay Bordyuzha stated on Thursday.

"We are monitoring the situation and know that tensions are rising in some areas," he commented. "If it exacerbates, CSTO will take any steps – we have the potential for this." At the same time he noted that the Kyrgyz government is doing its best not to allow more violence.

An Interfax correspondent in Osh reported that the days before the anniversary have been calm, although there are less people on the streets than usual and some say they are going to leave the city for several days.