Pyongyang aggravating situation is unacceptable – Moscow
North Korea's intention to legally claim its nuclear status aggravates the situation, and blocks the prospects for the six-party talks, says the Russian Foreign Ministry.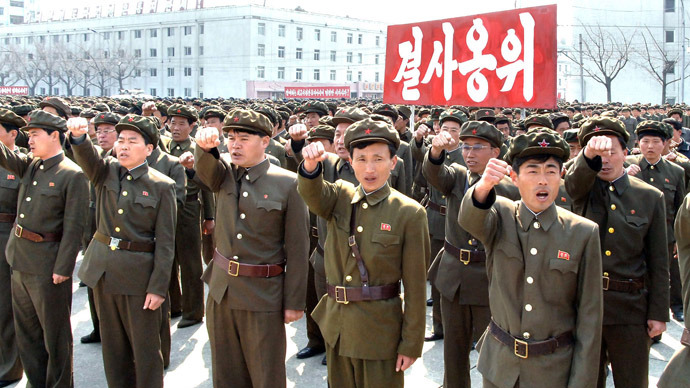 "We have to state the escalation of tension on the Korean peninsula continues. The situation is extremely difficult," the Ministry's spokesperson Aleksandr Lukashevich said on Thursday.
Pyongyang's announcement to legally secure a status of a state "that possesses nuclear weapons for defensive purposes," may significantly aggravate  or even "block the prospects for the resumption of the six-party talks," the diplomat pointed out.
"For Russia – which is a member of United Nation's Security Council – this is completely unacceptable ," Lukashevich underlined.

"The situation cannot be resolved through escalation, " he added.
Moscow has been "in a broad and intensive dialogue" with all its partners in the six-party talks: North Korea, South Korea, Japan, the US, and China. The forum is aimed at finding a diplomatic solution with Pyongyang to halt its nuclear weapons program.
"Dangerous manoeuvres and rhetoric" should be stopped as soon as possible, and conditions to resolve the six-party talks should be created, the Russian Foreign Ministry said. That is the only venue where problems regarding "the de-nuclearization of the Korean Peninsula can be addressed," Moscow insists.
Pyongyang quit the talks in 2009, shortly before it carried out a second nuclear weapon test.
Relations between North and South Korea have been tense for over 60 years, since the end of World War II, which was followed by the division of the country.

The latest stand-off began after the North Korea launched a long-range rocket in December and carried out its third (since 2006) nuclear test on February 12. This was followed by a new set of UN sanctions against the republic approved on March 7.

Pyongyang, in response, stated it had the right to launch a preemptive nuclear strike on the US. Several days later - as the US began annual joint military drills with the South Korea – the North announced its withdrawal from the armistice ending the Korean War in 1953. The UN, however, said the document is still valid since it cannot be ended unilaterally. Shortly after that, the US deployed F-22 Raptor stealth fighters to the region.

On March 30, North Korea declared it was in a "state of war" with South Korea and would deal with its neighbor according to "wartime regulations." However, technically the two countries have been at war since the 1950-53 conflict, which ended in a truce rather than a peace treaty.

Russia's Foreign Minister Sergey Lavrov warned that the situation on the peninsula may go out of control and "spiral down into a vicious circle." Speaking on March 28, he stressed that all the sides involved must focus on creating the conditions to renew the six-party talks, instead of "flexing military muscles," or using the current situation as a pretext "to solve some geopolitical tasks in the region by military means."

You can share this story on social media: