Purrfect present: Medvedev to give former Finnish President a kitten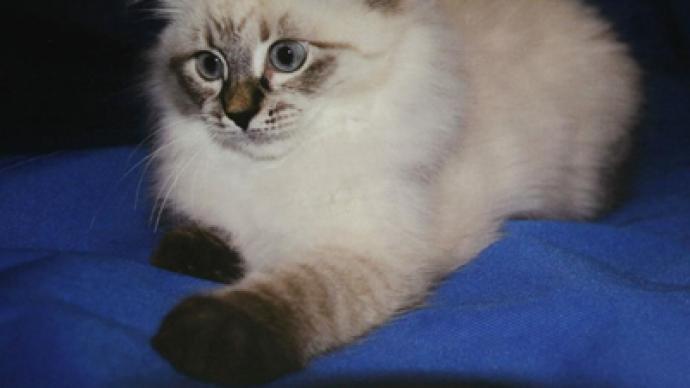 Russia's PM Dmitry Medvedev has published a photo on social network page of a fluffy cat that will soon become a new pet for Finland's ex-President Tarja Halonen.
Medvedev promised to give Halonen a kitten during his visit to Helsinki earlier this week. "Her beloved cat Miska died recently. We agreed that I would present her with a Neva Masquerade kitten, the same as my popular cat Dorofey," the premier wrote on his Facebook page. Halonen looked pretty happy when Medvedev showed her a photo of her new cat at a dinner in Finland. It is still not clear when exactly the cat chosen by the Russian PM will arrive in its new home in Finland. Hopefully, the authorities will manage to finish with all the paper work before Halonen's 69th birthday on December 24.
Meanwhile, Finnish newspaper Ilta-Sanomat has suggested its readers choose a name for the kitten. 'Putin', 'Vladimir,' 'Dmitry' are reportedly topping the list, followed by 'Brezhnev' and even 'Stalin.' It is unlikely though that any of the names would really suit the furry creature, who is actually a female. Some readers recalled the infamous Pussy Riot trial and suggested that Halonen's kitten should be called 'Pussy,' writes the Fontanka.fi news portal.Breeders approved Medvedev's choice, saying the Neva Masquerade cats are not only beautiful but also have a good character and are faithful like dogs. "These cats need communication, they do not live on their own and should always stay with people," Galina Igoreva told Kommersant FM. Medvedev's Dorofey became a star of the Russian internet after a rumor of his mysterious disappearance stirred up media interest earlier this year. The discussion of the 'news' by bloggers became so hot that the then-president had to calm down the public and assure them his cat was safe at home. The Prime Minister also has several dogs.
It is quite a common thing for politicians to give animals as presents. In September, President Vladimir Putin gave Venezuela's Hugo Chavez a Russian black terrier puppy. Earlier, the Russian leader got an Akita Inu puppy (famous for its loyalty by the story of Hachiko) from a Japanese official. Putin repaid the gift by sending a Siberian cat to Norihisa Satake, head of the Akita prefecture.Putin's beloved female black Labrador Koni – who is often seen with him during official meetings – was also a present. He got her from former Emergencies' Minister Sergey Shoigu back in 2001. Two years ago, a new pet appeared in the Putin family: Bulgarian Premier Boyko Borisov gave him a Karakachan shepherd dog that was named Buffy.
You can share this story on social media: