Five-year-old boy chooses name for Putin's pet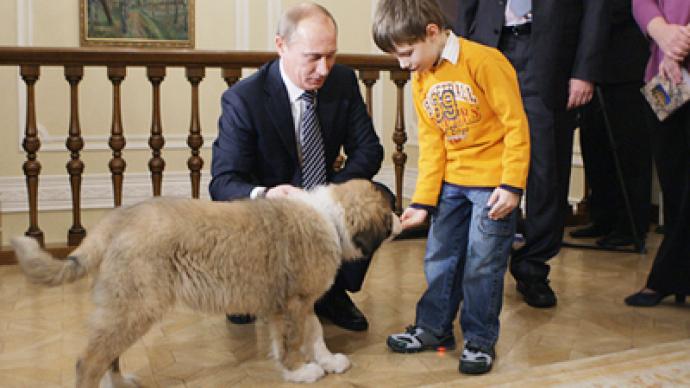 Having carefully considered all the choices submitted by fellow citizens via the Internet, Russian Prime Minister Vladimir Putin decided to call his Bulgarian shepherd Buffy, as advised by a young Muscovite.
Five-year-old Dima Sokolov and his parents were invited to Putin's residence in Novo-Ogarevo, where the prime minister introduced Dima and Buffy to each other. Putin praised Dima's choice of the name and presented the boy with a soccer ball, saying that he should practice in anticipation of the FIFA World Cup in 2018, which will be hosted by Russia. By then Dima will only be 13, so he will not be able to take part in any of the matches himself, but Putin said that the boy could easily play for the Youth League.
Back in November, Putin asked everyone to help choose the name for the puppy presented to him by Bulgaria's prime minister during a trade trip to the Balkans. The prime minister said that he received quite a lot of suggestions, but Dima's one was the best among them. Putin added that he also loved the name Balkan, which stems half from the traditional Russian dog name Polkan and half from the Balkans.
You can share this story on social media: