Activists oppose Big Brother snooping on families
Published time: 6 Jul, 2012 11:30
Edited time: 6 Jul, 2012 15:30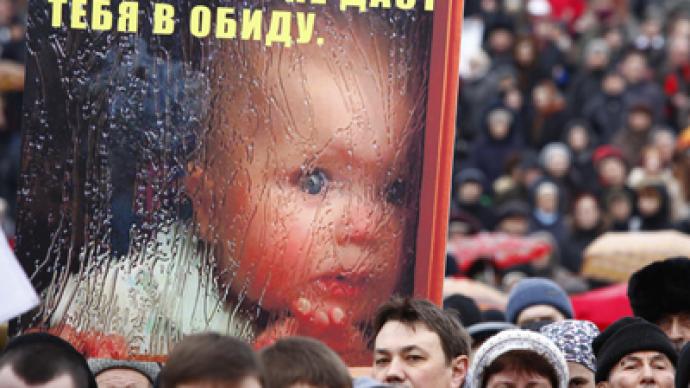 The Russian intelligentsia has urged the government to drop plans to introduce juvenile justice, which, they believe, may ruin the traditional Russian family and hurt the country's lagging birth rate.
In an open letter, over 40 artists, actors, scientists and academics called on President Putin, the Cabinet and the parliament "to reject juvenile technologies as a phenomenon which is alien, harmful and deadly dangerous for our state," reports Izvestia daily on Friday.
Currently, the judicial system for the protection of minors' rights is in its preparatory stage in Russia. It is planned to create special courts that would consider criminal, civil and administrative cases in which one of the sides is a child. At the moment, there are about 10 courts that have a specialized panel for dealing with minors.
More broadly, juvenile justice provides for a stricter state control over the family.
The authors of the letter fear that instead of contributing to the protection of children's rights, the new system will lead to "harsh and impudent interference" into families' lives.
One of the main concerns of those opposed to the institution is that it will allow officials to remove children from families on various pretexts. The fear of children being remanded to state custody is further aggravated in a country which already has 700,000 orphans.
Kids' snitching on their own parents is another stumbling block that makes it difficult for Russians to accept juvenile justice, the public figures say. It would result in the lack of trust within families and hamper normal child rearing practices.
Whistle-blowing – which has always been considered immoral in Russian society – is normal and even encouraged by juvenile justice systems, the letter says.
Also, the fact that kids could be seized from their parents just because they do not have enough money contradicts Russians' cultural and moral feelings.
"Poverty has never been considered shameful in the Orthodox Christian or any other traditional culture. It will be impossible to impose on our society a liberal-market approach to the issue," the intelligentsia insists.
The new regulations would hit normal families rather than "monster-parents" who have already been deprived of parental rights, says Irina Medvedeva, Director of the Institute for Demographic Studies.
"Normal child upbringing is impossible without encouragement and punishment. It all becomes impossible…because in juvenile terminology it is called violence," the expert told Izvestia. "It will lead to a decline in the birth rate since it deprives parents of the presumption of innocence."
According to writer Aleksandr Prokhanov, the state must bend every effort to minimizing the number of "unhappy families" and counter "the reasons rather than the consequences".
The Russian law has enough mechanisms to help children from problem families which were quite successfully used in the Soviet times, the public activists note in the letter. The Western model of children's rights protection might be acceptable for other countries, but in Russia's culture such approaches are seen as "an encroachment on most sacred thing – relations between people and their own children."