'Fed up' mother throws two sons from 15th floor, killing both
Published time: 24 Jun, 2012 19:20
Edited time: 25 Jun, 2012 02:30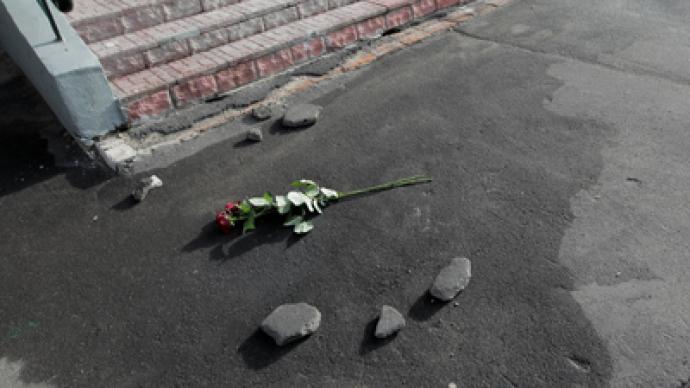 A Russian woman threw her four- and seven-year-old sons out the window from the 15th floor, with both boys dying before an ambulance arrived. She explained that she was "fed up with children," and "decided to get rid of them."
­Neighbors said they were shocked when they heard bodies hitting the ground.

"I was standing near the window and heard a loud smack," Life News tabloid quotes Tatiana Gumanyova, who lives in the same apartment building, as saying. "I did not pay attention, thought that the child just stumbled and fell. But then I heard one more smack."

The neighbor said that the mother, Galina Ryabkova, stayed calm until police arrived.

"My wife woke me up and said that there were children falling out. We ran out and saw two children lying on the ground in front of the main door. Just at that time their mother was leaving the building. We asked her if these were her children and she replied, emotionlessly, 'Yes, I threw them away,'" the tabloid quotes another neighbor as saying.

Police arrested Ryabkova as she left the apartment building where she lived with her husband and children.

She briefly tried to resist, but was detained and delivered to local police headqarters.

During the interrogation she behaved oddly, but calmly, saying that nobody needs her. She claimed that her children were now "angels in heaven," Sergey Markin, the Investigative Committee spokesperson, told RIA Novosti.

Hours after the crime, Ryabkova refused to talk to investigators.

She will be delivered to a psychiatric hospital, where she will be under security while the investigation is on.

Some reports claim that 30-year old Ryabkova tried to time her crime to coincide with her husband's return from either vacation or a business trip.

Meanwhile, media is speculating on reports of possible reasons that could draw Ryabkova to kill her underage sons.

According to one version, she suspected her husband of having an affair, while another suggests that financial problems forced her to throw both children out of the window.

Police say that the family lived in a new apartment building. However, when police officers walked in they saw uncolored walls, without wallpaper, and toys and clothes were scattered about the apartment.

Neighbors said that quite often Ryabkova complained of a lack of money, Life News reported.

However, different reports say that Ryabkova's husband works in IT in Moscow, and the family has always been considered successful and has never been on social services' watch list.

"She did complain to neighbors that she and her husband were incompatible, said something about a difficult financial situation. But we saw nothing suspicious," neighbors say.