Russia mulls jail terms for rehabilitation of Nazism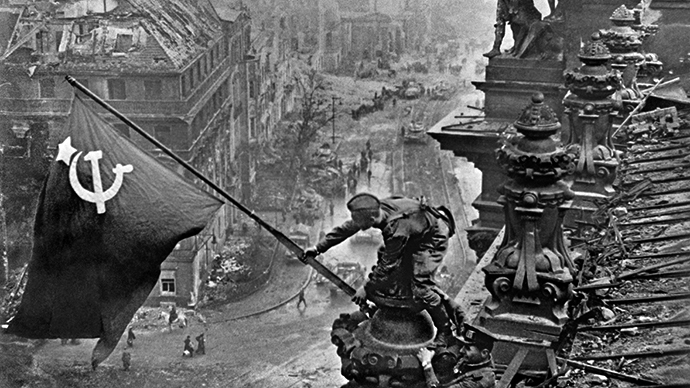 Russian MPs are drafting a new bill proposing up to 5 years in prison for justifying the crimes of Nazis and their collaborators as well as questioning the actions of the allies during WWII.
The new draft law has been prepared by a group of MPs representing the United Popular Front – a relatively new movement that supports Vladimir Putin and parliamentary majority party United Russia. It amends the existing part of the Russian Criminal Code entitled "Crimes against peace and humanity's security".
The main sponsor of the bill – MP Irina Yarovaya – drafted a similar document in 2009, but then the government said that it would need an extensive review from historians and legal experts. Now the MPs claim this work has been done and the draft has undergone the necessary changes.
The current version suggests the same sanctions as the older one – fines of up to 300,000 roubles (about $9,500) or up to three years of jail for individuals. The same offense committed in an official position or with the help of the media carries a harsher punishment – fines of between 100,000 and 500,000 roubles (about $3,100 - $15,500) together with the ban on occupying a number of posts for up to three years.
The difference is in the more precise definitions. In particular, the bill establishes the Berlin Declaration of Germany's Defeat, dated August 2, 1945, as a document listing both the aggressor-nations and allies who fought against Hitler's Germany. The same document confirms that the allied forces in WWII were defending international peace and security.
The formula of the crime is defined as "denial of the sentence passed by the international military tribunal as well as the denial of the fact that the actions of the anti-Hitler coalition were aimed at preserving the international peace and security." "Distribution of knowingly false information about the actions of the allied armies connected with charges with various crimes, including the artificial creation of evidence" is also listed as a criminal offense.
In comments MP Yarovaya said that it was the Soviet Union together with other coalition countries who really fought Nazism "and any attempts to give a different interpretation or appraisal of the Soviet Army's role and significance during WWII contradicts both the objective historical data but also the international legal acts".

The politician added that other nations already had similar laws, protecting the historical truth as stated by the Nuremberg Tribunal from revision.

You can share this story on social media: