Nazi propaganda to be banned in Russia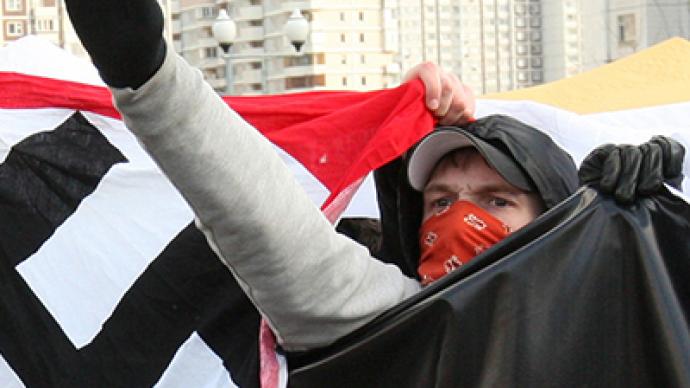 Russian senators are drafting a bill on prohibiting the glorification of Nazi crimes and the usage of any Nazi or similar symbols and gestures in the country.
Violation of the law will be punishable by a fine from 300,000 rubles (about US$9,500), corrective labor or up to two years in jail.The will be submitted to the State Duma by the end of the year, writes Izvestia daily. So far, Russia has had no specific anti-Nazi law. "This issue has not been given due attention within the past 20 years," one of the authors of the legislation, Konstantin Dobrynin, told the paper. As a result of that, Nazism has become an everyday thing and many people equate it to patriotism.On November 4, when Russia celebrated the Unity Day, nationalists staged the so-called Russian March in Moscow. Back then, the senator noted, the police detained 25 people wearing Waffen-SS uniforms and chanting the Nazi slogan "Sieg Heil"."The new law will become sort of a vaccination against this trend," Dobrynin said.
The bill will define what Nazism, Nazi rehabilitation and criminals are. It will also clarify what symbols and gestures are considered Nazi "or similar" and, therefore, cannot be used within the country. Scientific literature and fiction will not be subject to the ban, the senator underlined.The evaluation of violations will be carried out by two commissions – state and public – which will work independently from each other. The senators also suggest setting up a council that would counter the rehabilitation of Nazi crimes and monitor the situation. Meanwhile, nationalists oppose the idea. Instead of toughening the law, the government should cancel the Penal Code's article on Incitement of National, Racial, or Religious Enmity as it is "used solely against Russian patriots disliked by authorities," insists Dmitry Demushkin, the head of the Russiye (Russians) movement. According to the nationalist leader, the proposed law will be used as a mechanism to pressurize the society. He also noted that gestures similar to Nazi saluting are used by many pagans, while swastika "is used by everyone." "Hitler has been dead for a long time. It's impossible to review the results of WWII. So what are they fretting about?" Demushkin said.The lower house of parliament has welcomed the initiative as timely. MP from the State Duma's Committee on Nationalities Mikhail Markelov believes the lawmakers should go even further and prohibit free distribution of books which glorify Nazism. Only specialists and historians should have access to such literature, he stated. "Unfortunately, many youngsters use [Nazi] symbols – having no idea what they are – for self-affirmation or to show their national superiority, which is unacceptable for Russia," Markelov observed.
You can share this story on social media: