Tempers won't help solve islands problem, Moscow warns Japan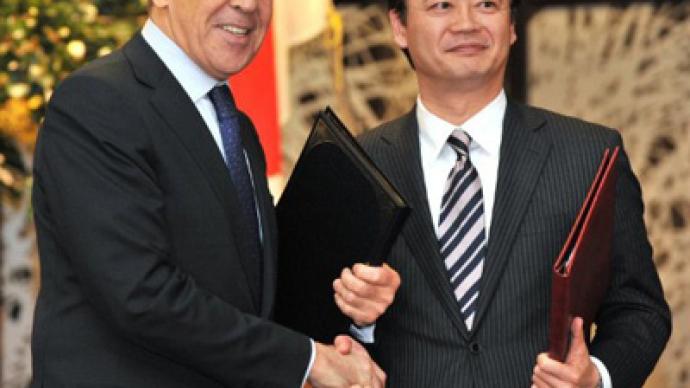 The Russian Foreign Minister has said that though his country is interested in a peace treaty, Japan's overly emotional approach can only hurt in what is a delicate issue.
In an interview with the Japanese news corporation NHK, Sergey Lavrov stated that Russia does not intend to linger in solving the problems it currently has with Japan. "It won't be easy as far as the peace treaty goes. To be honest, opposing views prevail in Russian and Japanese society on the causes, course and outcome of World War II," the Russian official added. The Russian minister said that an overly emotional attitude can only hinder the solving of disagreements, especially if these emotions are expressed in public. Lavrov however also noted some progress in the relations between the two countries. "We agreed the following: even if the governments do not manage to support historians, let us at least not obstruct their attempts to promote such dialogue," Lavrov said. If a peace treaty is to be signed, Moscow and Tokyo should maintain "a quiet and trusting dialogue, without too muchpublic polemics and based primarily on the desire to understand one another and to try to come to a common denominator," he said. The Russian minister said that the countries should try and start discussing their common history and base conclusions on facts and current fundamental legal principles, initially on the scholars' findings. "We proposed that the Russian and Japanese governments encourage our scholars to start discussing both positive and negative chapters in our joint history. The Japanese government has assumed a reserved position, however. Nevertheless, Russian and Japanese historians are looking for opportunities to begin a dialogue on their own, and to find a format for initiating it," Lavrov said.Lavrov's Japanese counterpart, Koichiro Gemba had said earlier that despite disagreements over the islands, the two countries intend to continue talks in a calm manner. He also said that it was possible that Japan and Russia could sign a treaty on joint economic activities on the islands, but stressed that his country was not going to risk its legal position while working in this direction. Despite these cautious and friendly statements by the minister, several groups of Japanese citizens held pickets near the Russian Foreign Ministry on Saturday during the meeting between Lavrov and Gemba. The protesters shouted slogans demanding the return of the islands, Russian news agencies reported.
You can share this story on social media: