Officials might be banned from using iPhones over spying concerns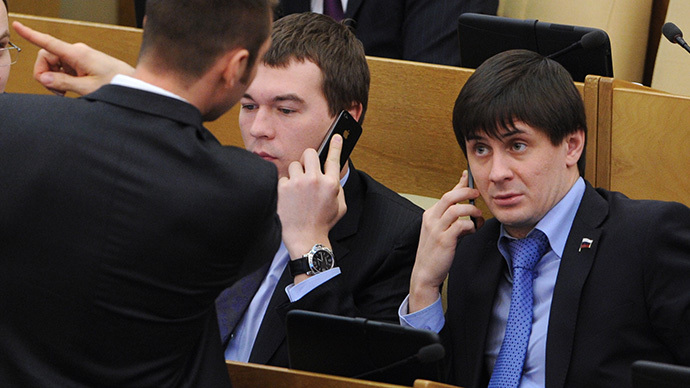 Russian lawmakers will consider banning state officials from using foreign-made smartphones, such as iPhones, over concerns they may not be secure. To avoid potential data leaks, they may be obliged to use Russian YotaPhones instead.
In the wake of the chain of scandals over US global snooping, including on dozens of world leaders, Russian senators and the country's security services are pushing for measures to protect senior state officials' communications.
A commission of the Federation Council, Russia's upper house of parliament, along with experts, will examine the security of popular gadgets, Izvestia reports.
According to Senator Ruslan Gattarov, Apple's iPhone is not suitable for use by Russian officials since it is vulnerable in terms of security.In his opinion, there should be three levels of data security, depending on a civil servant's rank. So, top-level government representatives would only use phones with encrypted data, he said. Business matters could be discussed via gadgets certified in Russia. Finally, for unclassified communications officials would be allowed to use whatever they want.
"I'm afraid it is likely that all smartphones would have to be banned. I don't know any safe smartphones. Maybe the new Russian gadget,YotaPhone, will become one," Gattarov is quoted as saying.
The idea has already been welcomed by some members of the State Duma, Russia's lower house of parliament. Vadim Dengin, a member of the State Duma's Information Policy, IT and Communications Committee, says he would not mind replacing foreign-made phones with a "decent" Russian phone.
"There will always be distrust of smartphone producers: those who make them are capable of tapping them," he said, adding that he would rather be controlled by his own state than foreign special services.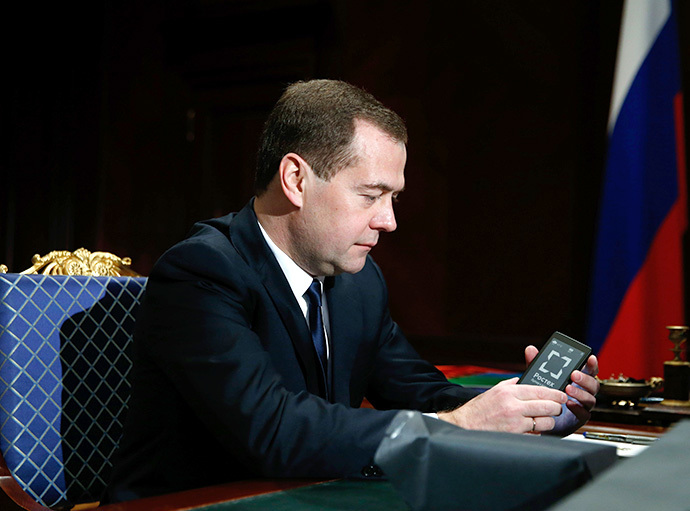 Another member of the committee, United Russia's Robert Shlegel, believes that it should be explained to everyone dealing with state and classified data "that iPhones can be eavesdropped" and also that they share information about their users' movements.
Russia's Federal Protection Service (FSO) is also working on ways to protect state internet and telephone communications. Currently, there are two options: re-flashing smartphones and installing protection on them, or banning their use at all, an FSO source told Izvestia. The second option is more likely, until Russian gadgets become widely distributed.
According to IT experts, there are technologies and software that help encrypt voice communications as well as file exchange and text messages. So these programs should simply be installed on devices that officials use, said Andrey Prozorov, an information security expert at InfoWatch.
Prime Minister Dmitry Medvedev, known for his enthusiasm in for high-tech gadgets, has recently begun using YotaPhone – the world's first twin-screened phone, which is also the first smartphone designed in Russia. Back in 2010, the then-president became the first Russian owner of an iPhone 4 – which was presented to him by Apple's late CEO and founder, Steve Jobs, during Medvedev's visit to Silicon Valley.
Talking to reporters last week, shortly after the first YotaPhone model was unveiled, Medvedev said he had not "thrown out" his iPhone, but would start using the Russian gadget hoping that it would be better protected from spying. He added, though, that he never discussed serious issues by phone, and noted that US President Barack Obama, who recently confessed he was not allowed to use iPhone for "security reasons," should not be afraid of using a telephone.