Internet censorship 'useless' - Medvedev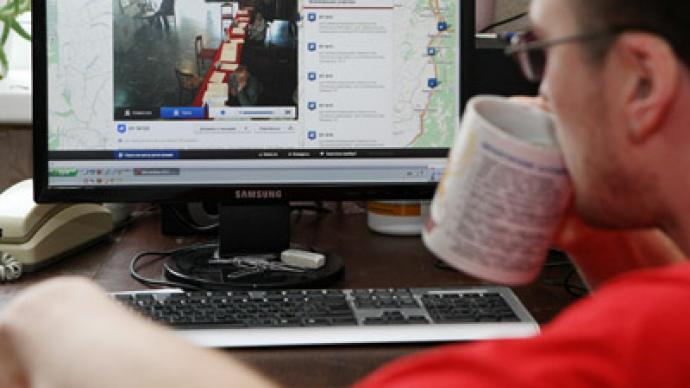 In his latest video blog entry, President Dmitry Medvedev said that Russia would never censor the internet, but urged law enforcers to find and punish those who distribute slander or hate materials, or child pornography.
Medvedev stressed that he was not talking about internet censorship as such a thing was "impossible and simply senseless" but urged stronger punishment for spreading deliberately false reportsespecially if such information could damage someone's honor, dignity or business reputation. The president also promised stronger punishment for spreading child pornography and promoting terrorism, national or religious feuds. In addition, Medvedev called upon internet users to help make the Russian power system more transparent and efficient.The outgoing Russian head of state said that "No one but us ourselves will make Russia better.""Counting on bureaucrats' omnipotence and universal knowledge means a lenient attitude to office-connected crimes. In the modern world that is complex and rapidly changing, the state simply does not have enough eyes to watch everything and enough hands to correct every mistake. The country needs you – active and not indifferent people and I seriously count on you," Medvedev stated. The president said that the internet must be used in order to make the power structures more open and transparent.Apart from the cheering and calls for cooperation, the president noted that the state system in Russia is already using the internet in some of its functions – in 2010 and 2011 several draft laws underwent public discussion through specially-designed feedback mechanisms. As a result, the bills submitted to the parliament differed significantly from their initial versions. Medvedev also acknowledged that practice brought out certain negative moment in internet use that still have to be overcome – for example, comments and ratings allowed "deliberately unacceptable and simply silly" ideas to be submitted and discussed. He noted that this was the primary reason why the public expertise system required user registration, even though this move reduced the number of participants by several orders of magnitude. "This is a necessary condition for the work that requires not only initiative, but also responsibility," Medvedev stressed.The president also said he deemed it necessary to introduce electronic democracy to the Russian regions in the form of crowdsourcing and referenda, as it was too complicated to solve minor problems through interference from Moscow. The blog entry was posted after Medvedev held another session of the Big Government – a recently-created large consulting body that is expected to work with actual government after Medvedev becomes prime minister under President Vladimir Putin. In the blog, Medvedev promised that even after leaving the presidential post he will remain present in social networks and take active part in various discussions.
You can share this story on social media: