Ingush leader orders help for Slavic Russians in North Caucasus republic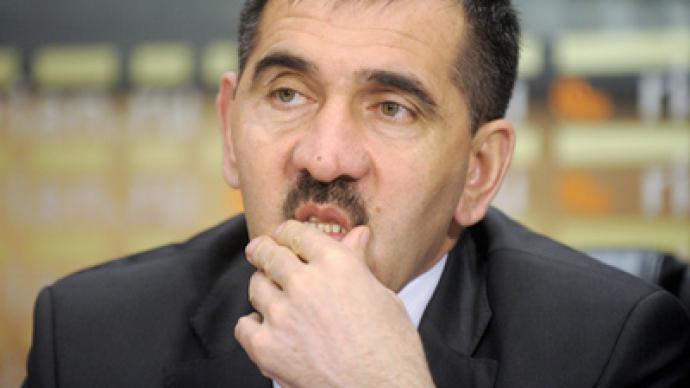 The head of Ingushetia, Yunus-Bek Yevkurov, has ordered a check of conditions for ethnic Russians in the predominantly Muslim region.
Yevkurov met with the rural dean of the Orthodox churches, Varlaam, and regional officials to discuss the implementation of the program, called "The return and accommodation of the Slavic Russian population in Ingushetia, 2010-2015."The republic's head was told about practical measures to assist ethnic Russians living in Sunzhensky District. Yevkurov ordered other regional leaders to check living conditions for Slavic Russians in all the districts.Ingushetia, like other North Caucasian republics, has lost much of its Slavic Russian population in recent years. On April 7, the same issue was discussed at the meeting of the government of Dagestan. Deputy Minister on National Policy Zikrula Ilyasov said that about 300,000 Slavic Russians have left republics of the North Caucasus Federal District since 1989. Dagestan lost 27 per cent of ethnic Russians in 1989-2002. Now they comprise less than five per cent of the republic's population. Local politicians recognize that this fact has a negative influence on the region's development. Analysts say it is now difficult to find Slavic Russian families in Chechnya and Ingushetia. Yevkurov himself admitted in October last year that that there had been no outflow of ethnic Russians from the republic for a long time. "Frankly, everyone who had wanted to go has already done so," he told journalists. And no ethnic Russians are hurrying to return to the republic, despite programs devoted to their accommodation. The main problem is the lack of work and security. Yevkurov promised to do everything to help ethnic Russians, but made it clear there were no conditions on their return. It seems that the main task for local authorities is to assist those few Slavic Russian families who still live in the republic.   Meanwhile, the construction of a cathedral mosque has begun in Magas, the capital of Ingushetia. On Wednesday, Yevkurov and delegations of the clergy of North Caucasus republics took part in the cornerstone ceremony. This main mosque will house 8,000 people to perform the prayer service at the same time. It will occupy 11,000 square meters. The mosque's main cupola will have the diameter of 50 meters and the minaret will be 64 meters tall.
You can share this story on social media: