Supreme Court upholds ban on Muslim headwear in schools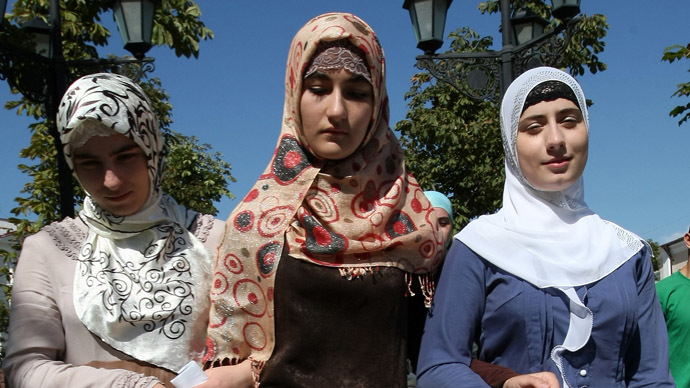 A branch of Russia's Supreme Court has rejected an appeal by a group of Muslims for the right of schoolgirls to wear traditional religious attire, specifically the hijab, in classrooms.
The appeal was made by a group of citizens of Muslim faith from southern Russia's Stavropol Region. They complained that a decree by the local administration ordering all schoolchildren to appear in classes only in regular secular clothes, which came into force in January this year, infringes their freedom of faith as guaranteed by the constitution.
Certain denominations of Islam requires that all women wear special headscarves called hijabs, covering their hair and necks.
The controversy erupted when a group of schoolgirls was barred from classes for two weeks when they insisted on wearing hijabs. The girls then began attending to a local religious school, the parents saying their daughters would receive the mandatory universal secondary education at home. However the administration ruled that a religious school cannot replace a secular one.
The Muslims claimed such position was equal to repression against religion and also that from the formal point of view only the federal authorities could pass decisions that limit the religious rights. However, local district and regional courts took the administration's side, ruling that the constitution had not been violated.
"Restrictions in appearance ensure normal functioning of educational institutions and equality of students belonging to different faiths and denominations. The appearance of students should comply with the official style and be secular," read the ruling of the Stavropol Regional Court. It also added that freedom of religion cannot be tied to the right to wear religious attributes and that the ban protected the equality of all faiths.
The Muslims turned to the Supreme Court, but on Wednesday their appeal was turned down. At the session, the representative of the Stavropol administration reiterated the position that the school regulations concerning dress did not prevent Muslims from believing in God and were therefore not infringing anyone's rights.
The defense team said they would now appeal the case in the Supreme Court Presidium, the final right of recourse within Russia. They also noted that it was unlikely that they would turn to the European Human Rights Court as they expected it to take the side of the regional authorities.
The majority of the Stavropol Region's about 280,000-strong population is comprised of ethnic Russians who are Orthodox Christians. But in recent years more and more Muslims from neighboring North Caucasus republics have been settling in the area and many Russians are leaving for central regions.
Earlier, the ban on religious clothes in schools was also introduced in the Muslim-dominated regions of Bashkiriya, Adygeya and Dagestan, but there the population chose not to protest against these rules.
You can share this story on social media: