US think-tank aims at rewriting history on Georgia-Russia conflict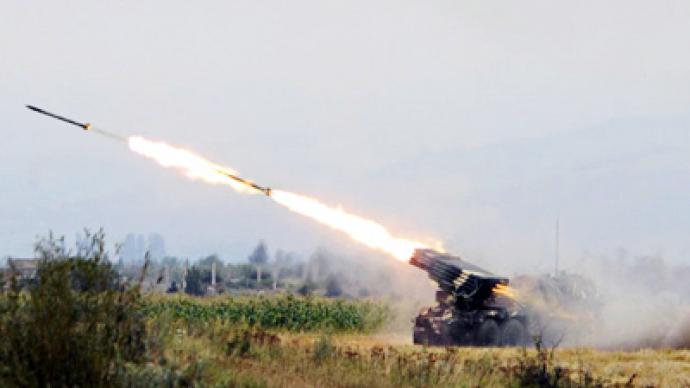 Despite an exhaustive EU investigation that showed Georgia's responsibility for igniting a five-day conflict against South Ossetia and Russian peacekeepers in August 2008, one American think-tank is set on rewriting the history books.
The Washington-based Heritage Foundation, a right-wing think-tank, has supported more than one misguided campaign against Russia since it formation in 1973. It advanced the suicidal strategy for former President Ronald Reagan, for example, that said it would be militarily possible to defeat, not merely "contain," the nuclear-armed Soviet Union. Fortunately, there were some members of Reagan's administration who understood what "mutually assured destruction" stood for. The Heritage Foundation also supported the foreign policy initiatives of George W. Bush, despite the determination on the part of the hawk-heavy administration to open a military campaign against Iraq in March 2003, a nation that had no role in the events of 9/11.Most recently, and no less inexplicably, Heritage Action for America, a nonprofit group affiliated with the Heritage Foundation, began a petition drive advocating the rejection of the new Strategic Arms Reduction Treaty (New START) between U.S. President Barack Obama and Russian President Dmitry Medvedev. Not everybody in the US, and especially on the right side of the political spectrum, is so enthusiastic about the prospects of a world without nuclear weapons, nor a lasting "reset" with Moscow.In short, the Heritage Foundation, which understands that reinforcing the idea of Russia as an enemy is its very bread and butter, clings to a Cold War mode of thinking, while fomenting at every opportunity a negative perception of Russia and its polices. Now, its latest campaign is to project the image of Russia as the instigator of the Georgia-Russia conflict of August 2008, possibly with the intention of garnering international support for Georgia's membership into NATO, a long-term goal of Georgian President Mikhail Saakashvili.Rewriting historyThe foundation is reportedly preparing a series of "workshops" to assist Tbilisi as it prepares for an international media campaign with respect to Georgia's conflicts with Abkhazia and South Ossetia. According to RT sources, Heritage Foundation will sponsor a number of conferences this year in the United States, while handing out awards for research work and documentaries that deal with already prepared titles, including "Russia's role in instigating the conflicts in Abkhazia and South Ossetia;" and issues involving "Military, economic, energy and information security in the South Caucasus;" as well as other such subjects that immediately betray the subjective nature of the events. In other words, participants who wish to advance the established truth about those bloody days of August 2008 need not apply.RT also was informed that the foundation would work to create "coalitions of NGOs and anti-Russian groups of bloggers and associations of college students" (including Abkhaz and South Ossetian students) to work on the "issues of post-conflict settlement." Ordinarily, such ambitious initiatives on the part of a think-tank would not be the cause of much concern. The fact that Heritage, however, continues to have no small amount of influence on US policy circles, its planned cooperation with Tbilisi has raised some eyebrows in Russia and beyond.Members of the European Union have also expressed their incredulity over the news, pointing to their own in-depth investigation released in September 2009.The 1,000-page EU-commissioned report, by a fact-finding team that was made up of more than 30 political, military and legal experts led by the Swiss diplomat, Heidi Tagliavini, was unveiled in Brussels on September 30, 2009 after nine months of labor. Their conclusion was straightforward: the Georgian side was responsible for starting the conflict."The Russian side justified their military intervention by their intention to stop an allegedly ongoing genocide of the Ossetian population by the Georgian forces, and also to protect Russian citizens residing in South Ossetia and the Russian contingent of the Joint Peacekeeping Forces deployed in South Ossetia," the report read."Georgian claims of a large-scale presence of Russian armed forces in South Ossetia prior to the Georgian offensive … could not be substantiated."Altogether about 850 persons lost their lives, more than 100,000 civilians fled their homes in the 5-day conflict. "Pointing the finger of blame at Tbilisi does not serve the long-term interests of Washington," commented one veteran EU diplomat from Brussels who contributed to the fact-finding report. "It must be shown that Russia was the aggressor in this conflict [otherwise] it will be difficult to rally support for Georgia's membership in NATO."The diplomat, who agreed to speak on condition of anonymity, due to his involvement in the investigation, added that "it would be like opening old wounds between Moscow and Tbilisi that needed time to heal."Meanwhile, the Russian Foreign Ministry slammed a draft resolution initiated in the US Senate in December that called for recognition of Abkhazia and South Ossetia as Georgian territories that are being "occupied by Russia.""We, of course, do not question the right of American lawmakers to give their own assessment to the situation in the region, but at the same time we have to note with regret, that the draft resolution – as well as positions of many members of the Congress – ignores the new reality, which emerged after Saakashvili's regime unleashed its aggression in August, 2008," the Russian Foreign Ministry said in a statement posted on the ministry's website. "As a result of these actions – and only a few disagree that the aggression was started by Tbilisi – the independent states of Abkhazia and South Ossetia came into being," the statement continued.Russia recognized the independence of Abkhazia and South Ossetia on August 26, 2008, and established diplomatic ties with the de facto states on September 9 of that year.The Russian Foreign Ministry also said that Moscow was ready to contribute maximum effort to ensure that Georgia lives in peace with Abkhazia and South Ossetia, including through the signing of a non-use of force agreement between the states.
Robert Bridge, RT