State Duma speaker proposes criminal liability for drug abuse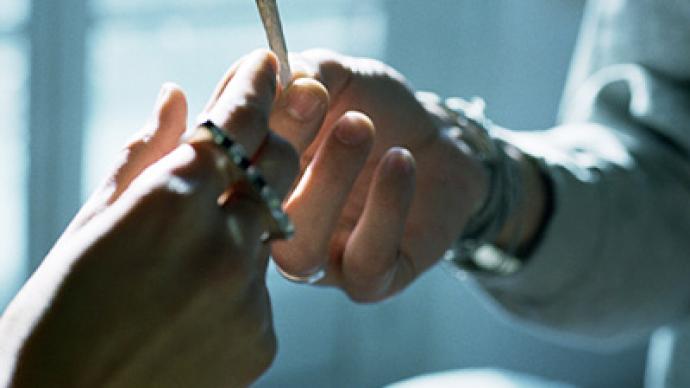 "Either we crush drug addiction or it will destroy us," Boris Gryzlov said, suggesting that propaganda of narcotics should be equated to high treason.
The lower house's speaker and chairman of the ruling United Russia party's supreme council believes that the state needs to show its will and take extraordinary measures in fighting the drug industry. If five per cent of the population are drug addicts, this presents a national threat, Gryzlov said. According to estimates, from 2.5 to 6 million people in Russia regularly take drugs, which means that the country is already "on the edge of an abyss," the politician warned. As "a war is being waged" on this front, all those who support illegal activities deserve "no mercy," the speaker wrote in an article published by Nezavisimaya Gazeta daily on Tuesday. When decisions are made at war, they are no longer discussed, he stressed, suggesting this principle should be used against drug use. Drug barons should be equated to serial killers, and the spreading of propaganda on narcotics in the mass media to high treason, Gryzlov proposed. Any attempts to encourage drug use in the media should be punished by closing media outlets and persecution of their owners, he believes. The politician suggested that the mass media should be involved in counter-propaganda activities. Gryzlov also suggested introducing criminal liability for drug addicts and their involuntary treatment. Criminal responsibility would be a strong preventive measure, he noted. The speaker recalled that after it was introduced in the USSR in 1987, the number of drug addicts significantly reduced over two years. To avoid criminal prosecution, drug addicts could choose special treatment, he said. Officials and law enforcement officers who cover up drug trade should be punished as toughly as drug dealers, Gryzlov suggested. He wants property belonging to those involved in this illegal business to be confiscated and money spent on the treatment of drug addicts. Some human rights activists criticized Gryzlov's statements. It would be irresponsible to introduce criminal liability for drug addicts, believes head of the For Human Rights movement Lev Ponomarev. Taking such measures against people who need treatment is unacceptable, he told Ekho Moskvy radio. Those imprisoned lose a chance of treatment and avoiding drug abuse, he added. Late last week, Russia's Federal Drug Control Service head Viktor Ivanov sharply criticized the proposal of Kofi Annan's Global Commission on Drug Policy to legalize some types of narcotics. He described the move as a PR-campaign directed at popularizing the use of drugs.
You can share this story on social media: