"We have good record in fighting crisis" – Medvedev
Published time: 26 Sep, 2011 14:36
Edited time: 26 Sep, 2011 18:36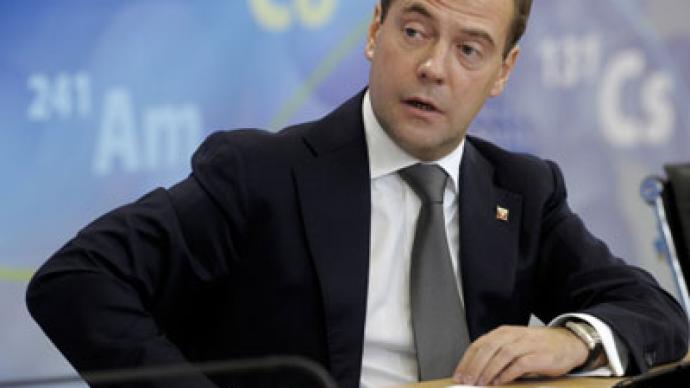 President Dmitry Medvedev has demanded the government to closely follow developments on the global financial market, pointing out that domestically, fulfilling social promises should remain a priority.
­He made the statement during a meeting of the Commission for Modernization in the Ulyanovsk Region.

"We should analyze attentively what is going on the world and European markets. At the same time, as before we should give priority to curbing unemployment, maintaining the stability of the financial system and keeping promises in the social sphere," Medvedev said.

He stressed that "we can't help being anxious about situation in the global economy," still pointing out the experience Russia now has in overcoming the crisis.

"Today we have a record of fighting a most severe crisis so there is no need to waste time on preparing necessary tools, which doesn't mean though that we won't need them," he said.

On the modernization of Russia's economy, he once again stressed the need for highly professional specialists who would implement reforms on practice.

"We should realize perfectly well which specialists and how many of them are required for this or that industry," Medvedev outlined, reminding that the government has increased financing for the training of engineers and other professionals needed for a technological breakthrough in the economy.

He also said that apart from academic knowledge education should provide practical skills so co-operation between universities and industries should be strengthened. This, in his view, would also allow the resolution of the problem of unemployment among young professionals.

In addition, the employment rate among graduates should be considered a criterion for state funding of higher education institutions.

"This is important for both controlling financing and the content of educational programs," Medvedev observed.

President Medvedev also paid attention to the living standards of students and technical equipment of universities. Most higher institutions are unable to provide accommodation for all students coming from other regions, and the state of dormitories often leaves much to be desired.

It is high time to get things moving in this regard, Medvedev believes. During the meeting, he instructed the government to draft a special-purpose program for the construction of new student dormitories and reconstruction of the existing buildings.