Georgian parliament indefinitely postpones Saakashvili address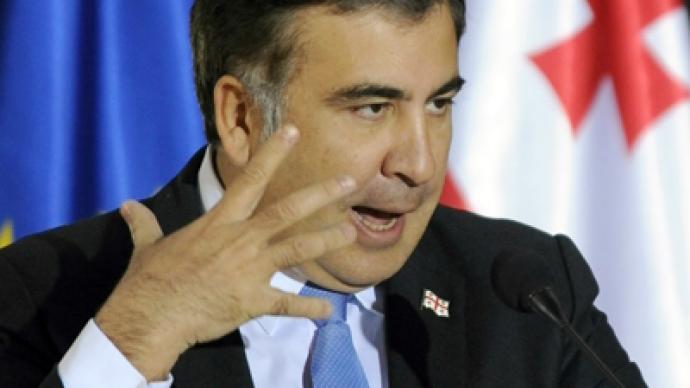 The Georgian parliament has postponed President Mikhail Saakashvili's annual address, scheduled for February 8, after his minority party refused to cooperate on new amendments that would limit the presidential powers.
According to Parliamentary Speaker David Usupashvili, Saakashvili's minority United National Movement has refused to cooperate in the creation of amendments to the country's constitution that would limit the presidential powers to dissolve the parliament and approve the new government without the legislature's approval.The majority Georgian Dream party holds 85 of the in the parliament's 150 seats and needs support from some of its opponents to get the constitutional majority. President Saakashvili, whose party lost at the parliamentary poll in October 2012, will remain in office until the next presidential elections, due in late October this year. As Saakashvili cannot run for another presidential term, he changed the law to give broader powers to the parliament and PM, in hopes of winning last year's parliamentary poll and continuing to run the country.However, this did not happen. Georgian Dream, founded by billionaire Bidzina Ivanishvili, won the election despite numerous legal curbs and political pressure from Saakashvili's regime. Ivanishvili became prime minister and appointed the new government, but Saakashvili remains president and most of the regional administrations are still headed by his people from the United National Movement."The parliamentary majority holds that the presidential address should be delivered after we pass a decision on constitutional changes or after an open statement from the president and his team on their position concerning the powers of the parliament," Usupashvili told reporters. "We respect the Georgian constitution and the rights of the president, but at the same time we respect ourselves," he said, adding that his party was interested in an end to the crisis. PM Bidzina Ivanishvili said earlier that he did not intend to attend Saakashvili's address to the parliament as he was tired of his opponent's lies.Russian and Georgian political experts hold that the current developments in the country are logical, as one of Ivanishvili's major electoral promises was to complicate life for Saakashvili and his allies. Aleksandr Karavayev of Moscow State University has been quoted as saying by the Newsgeorgia portal that Ivanishvili's new austerity course had hit Saakashvili's people in the presidential administration, the military and law enforcement structures. Deputy Director of the Institute of Commonwealth of Independent States Vladimir Zharikhin agreed that Ivanishvili's actions remained within the general strategy that he outlined in his electoral campaign. "He does as he says. He promised to normalize the relations with Russia and that is what he is doing now. He promised to sort out Saakashvili's system of power, with arbitrariness, and that is what he is doing," Zharikhin observed.
You can share this story on social media: