Saakashvili prepares commandos ahead of 2012 elections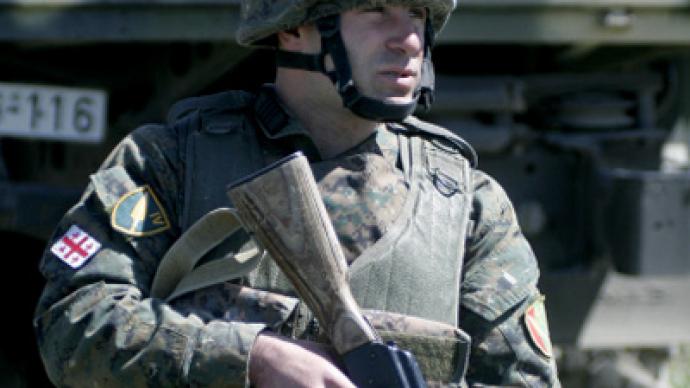 Georgia is reportedly creating an unofficial military reserve in the country's regions. The opposition says the move is a veiled threat in the run-up to the 2012 parliamentary election.
Detachments ranging in strength from 10 to 100 are being formed in Georgian towns and villages under an order from Tblisi. They are made up of experienced soldiers and "criminals", reports the Regnum agency, citing the Georgian newspaper Sakartvelos Respublika. The reasons behind the move have not been officially clarified, but it is rumored that it might be linked to the entry of billionaire Bidzina Ivanishvili onto Georgia's political stage. Under the plan, 25,000 troops will be spread around the country. Currently, the recruits are being trained at Senaki military base in western Georgia, Kakha Mikaya, an activist from the movement "Protect Georgia" told the newspaper."The selection is now underway," said a representative of Free Democrats Party, Gia Alasania. He added that the militants would later be provided with uniforms and weaponry, "and, they say, be paid 300 Lari (about $180)." "This all is connected with upcoming election processes," Alasania added.Another opposition member, Zurab Kvaratskhelia, told Sakartvelos Respublika that one such reserve military unit had already been created in a village on the banks of the Inguri River. The 1,000-strong group is headed by a former policeman. According to Kvaratskhelia, "the government that is facing a threat of losing its power" may come up with a range of intimidatory measures. Earlier this autumn, Ivanishvili, a fierce critic of President Mikhail Saakashvili's policies, announced plans to create his own party and contest the parliamentary election. The businessman, whose wealth is estimated at $5.5 billion, has vowed to oust Saakashvili's authoritarian regime if his yet-unregistered party wins the polls. The billionaire-turned-politician was stripped of his Georgian citizenship and currently holds Russian and French passports.
You can share this story on social media: