Saakashvili setback: Georgian parliament votes to limit presidential powers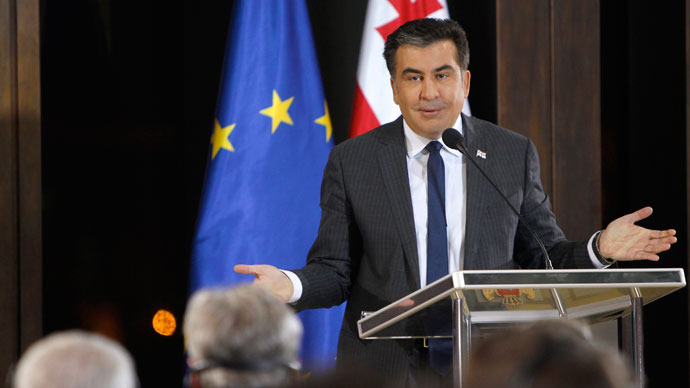 The Georgian parliament has given first approval to a bill that would deprive the president of the right to dissolve the government, stripping Mikhail Saakashvili of his remaining leverage of political influence.
The fresh bill that changes the country's constitution was supported by 135 MPs. The minority party United National Movement, which supports President Saakashvili, also voted in favor of the initiative. There were no votes against.
When the bill is passed and signed into law the president will lose the right to dissolve the parliament in the last six months of his term (the next presidential poll in Georgia is due in October).
In addition, if the president sacks the government but the parliament refuses to approve the candidacy of the new PM, the cabinet will remain the same until the presidential elections.
The move was sponsored by parliamentary majority Georgian Dream – the political party that won last year's parliamentary elections using strong and persistent anti-Saakashvili rhetoric.
Even before the poll, Saakashvili had allowed changes in the Georgian legislation giving more powers to the parliament and PM, in the hope that his bloc would win and he would remain in power. However, his plan did not bear fruit.
Georgian Dream said it needed even more guarantees that the departing leader of the United National Movement would not attempt to start a political crisis in the country. It suggested the set of amendments that now received the first backing from the parliament.
President Saakashvili, however, said that he would continue his struggle and stressed that any attempts to oust him from the political foreground would not end in success.
In February the parliament voted to indefinitely postponed Saakashvili's annual address as a protest against the United National Movement's refusal to cooperate on anti-crisis amendment package.
Even before that, leader of parliamentary majority Prime Minister Bidzina Ivanishvili said he did not plan to attend the address as he was tired of Saakashvili's constant lies.

You can share this story on social media: