Georgian parliament overturns Saakashvili veto, freeing political prisoners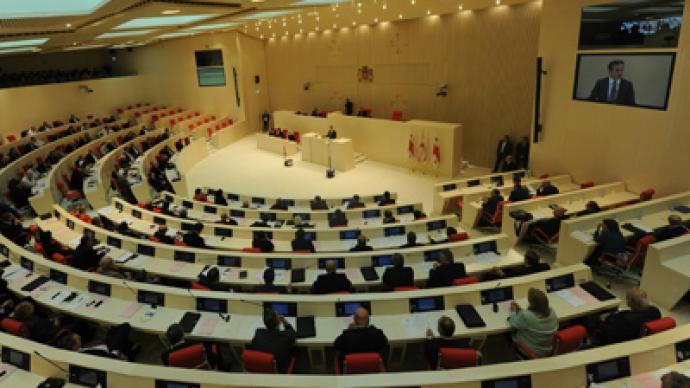 The Georgian parliament overturned President Saakashvili's veto and signed the law that grants freedom to about 200 political prisoners, as well as thousands of others, for the first time in the country's modern history.
Speaker of country's parliament Davit Usupashvili called a press briefing Saturday and signed the law in front of journalists.  The bill came into force immediately and this means that detainees will start leaving detention facilities as soon as Sunday. Political prisoners – around 200 people – are to be released in the first place. "From 10:00 in the morning on Sunday, the process of releasing [political prisoners] will start, and in one hour everyone will leave," the minister said.In November, the Parliamentary Committee on Human Rights declared 180 people detained in the country for different reasons as political prisoners and another 25 'in political exile'.In early December the parliament approved the list of 'political' prisoners and said that it would press for their release by legal means.The ministry vowed to send another 17,000 cases to court within three weeks after the law comes into force.There are more than 20,000 people currently serving their terms in Georgian prisons. Saakashvili's opponents, who now have the majority of seats in the parliament, claim that the convicts had been sentenced for their political views and the cases were fabricated by Saakashvili's people.Initially the parliament passed the bill on the amnesty on December 21, ordering to release of the convicts included in the 'political prisoners' list. President Saakashvili called the bill "a disgrace of parliamentarianism" and vetoed it, claiming that not a single international organization has ever reported that Georgia had political prisoners.Less than a week later, the parliament overturned the veto with the majority of votes – 91 against 24. In response Saakashvili addressed the nation saying he wanted to protect society from the consequences of the amnesty that would release "the corruptors of the young, Russian spies, the conspirators plotting coups d'état and military mutinies."The president said it was "wrong" to include in the list people convicted on charges of spying for Russia and several military convicted in 2009 for attempting to overthrow state power."I am confident that the law will be written in the infamous list in the history of Georgia," he announced, warning that "if law came into force, the criminal situation in the country would deteriorate."The newly-elected parliament, mostly opposition to President Saakashvili, started preparing the law on amnesty immediately after the election. In the October vote, the Georgian Dream Coalition, headed by billionaire Bidzina Ivanishvili, defeated Saakashvili's United National (UNBK) Movement after nine years of rule.
You can share this story on social media: