Georgia jail shock: Rape by rubber batons amid 'EU-quality prison' sham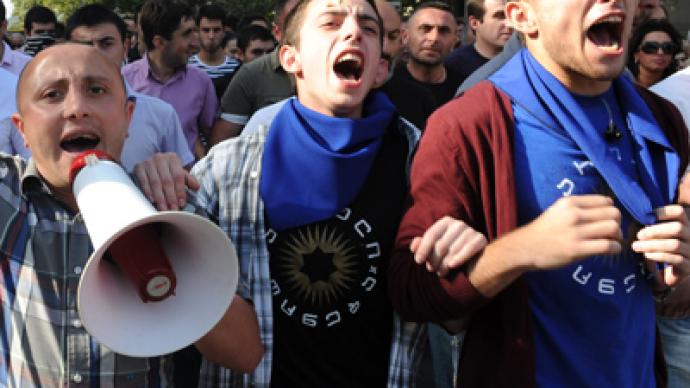 Credit cards, grocery stores, gyms - Georgia has been bragging about its prison reform for a long time. But all that work's now been overshadowed, amidst allegations of rape and torture in the country's prisons.
The scandal broke out earlier this week when two Georgian TV-channels aired shocking video of prison staff, allegedly torturing and then raping prisoners with truncheons, in one of Tbilisi's prisons.Thousands of people took to the streets across the country to protest the violence. Georgian President Mikhail Saakashvili reacted immediately, by calling for a reform of the prison system, but the request comes on the back of an already implemented reform.In 2006 Georgia started a major prison revamp. The drive began with building new facilities and reconstructing the old ones.
During first four years of the reform authorities spent approximately $182 million on building European quality prisons. By June 2011, Georgia was applying for a 60 million Euro loan from the Council of Europe's Development Bank to continue the reform.The money was supposed to be spent building another prison that would correspond with European Prison Rules and the standards of the European Committee for the Prevention of Tortures.Photographs of one of those Euro-standardized prisons appeared online in January 2012 and received wide circulation. The new facilities included a gym, hotel rooms where prisoners can meet with visitors, a modern dentist cabinet, and many other facilities.Pictures demonstrated the facilities before and after the reconstruction, showing how falling apart barracks were turned into brand-new complexes.Now, six years since the reform began, this rape scandal has exposed a sordid underbelly behind Georgia's reform façade, where the old system of human rights abuse and violence, seemingly still exists. Commenting on the shocking incident, Saakashvili declared that it is not about some isolated cases, but about the failure of the penitentiary system itself, urging another complete reform in this sphere.The President said he had been shocked by the incident. "It looks like officials derived pleasure from torturing people, they are real maniacs," he said.The 33 year-old Minister of Execution of Sentences and Corrections, Khatuna Kalmakhelidze, who not long ago proudly demonstrated Georgia's modernized prison facilities, had to announce her resignation. In the resignation statement Kalmakhelidze said her efforts to make human rights secure were "insufficient."But protesters who took to the streets of Georgia in large numbers say the resignation is not enough. They demand that all the current and previous chiefs of the penitentiary system bear criminal responsibility for the incident. Some protesters even spoke about the resignation of the government.Eric Draitser, a geopolitical analyst for Stop Imperialism.com website, believes the roots of the problem can be found within the Georgian regime itself."The regime is not interested in human rights, they are interested in aggression, and most importantly they are interested in shoring up a relationship with the United States," he told RT. "President Saakashvili is without a doubt one of the most egregious violators of human rights and human dignity anywhere in the world."
You can share this story on social media: