Georgian authorities ban free media access as voter bribery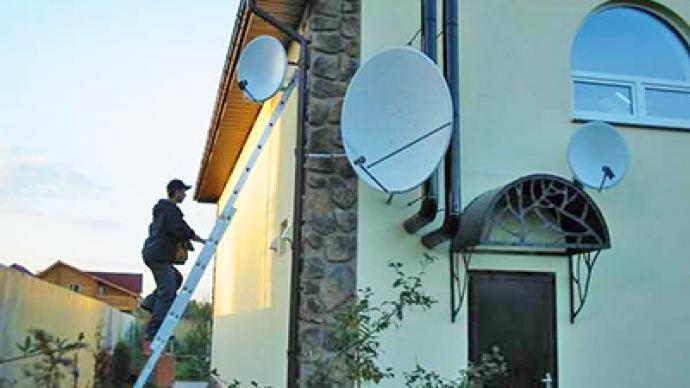 Tbilisi's city court has seized satellite dishes purchased by local opposition TV channel Maestro as part of the ongoing investigation into an alleged vote-buying attempt ahead of the fall 2012 parliamentary elections.
The decision was made upon the application from Georgian Prosecutor General's Office, which insists that the channel was planning to hand out the dishes to the population in an attempt to bribe voters, reports Civil Georgia.According to prosecutors, Maestro TV imported "thousands of satellite antennas" under the instructions from company Elita Burji, which is linked to billionaire Bidzina Ivanishvili – the leader of the Georgian Dream opposition coalition. Earlier last month, the Georgian authorities also accused Global TV, co-owned by Ivanishvili's brother, of vote-buying. The state audit agency claimed that installing satellite antennas for clients free-of-charge with funding from Ivanishvili was a violation of the party funding rules. The satellite receivers were seized and the opposition leader was fined US$45 million (which he refused to pay).On Wednesday, the chief prosecutor's office said that "The investigation has sufficient evidence to believe that the antennas [bought by Maestro TV] will be distributed in accordance to the scheme of vote-buying previously used by Global TV." "The investigation aims at avoiding criminalization of electoral processes and ensuring respect of the rights and freedoms of individuals and political parties," the statement reads, as quoted by Civil Georgia. Meanwhile, the head of Maestro channel, Back Kikabidze called the accusations "absurd" and the prosecutors' actions "illegal." He denied any links with Ivanishvili-affiliated companies or politics in general. Kikabidze pointed out that his company purchased antennas from Turkey, since they are interested in broadening the channel's audience, but they were not planning to hand them out free-of-charge, cited Interfax.On Thursday, representatives of Georgian Dream were reportedly attacked by a group of unidentified people during the opposition's meeting with their supporters in the village of Karaleti in the Gori region. According to one of the leaders of the coalition, Sozar Subari attackers were throwing stones at the opposition members as a scuffle sparked during the gathering. He stated that more than 10 people, including one journalist, were taken to hospital after the incident, which – he believes – was a pre-planned provocation by the Georgian authorities.
You can share this story on social media: