Armed gangs formed in Georgia 'to repress opposition'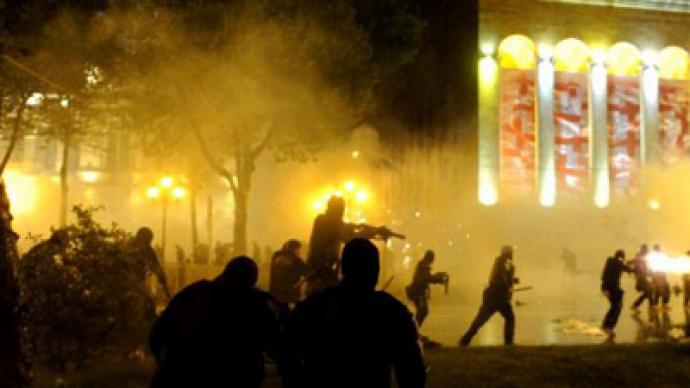 Illegal paramilitary groups are being set up in western Georgia on the order of President Mikhail Saakashvili, says opposition leader Irakli Alasania.
Armed groups about 500-strong, comprised mainly of criminals and participants of the August 2008 war in South Ossetia, have been created in the republic within past two months, Alasania stated on Tuesday. The aim of these formations is to "intimidate" and repress the opposition, he added.
"I'm addressing Saakashvili directly – there is no need for hysterics. But it's necessary to take immediate measures to dissolve and disarm these gunmen units, since the opposition is simply willing to come to power through elections," he said, as cited by Interfax.
Defense Minister Bacho Akhalaia argued that armed groups being formed in the western regions are Georgia's "reserve forces" and called Alasania's claims nonsense, News Georgia reports.
Meanwhile, according to the Alasania – the leader of Free Democrats and former Tbilisi envoy to the UN – the minister is among those participating in setting up the paramilitary units.
Last week, during a meeting with Tbilisi-based foreign diplomats, Alasania claimed that the Georgian leader "is preparing for a civil war and confrontation." The politician urged the diplomats to interfere "before it is too late" and warned of a possibility of the Syrian scenario in the former soviet republic if nothing is done before the October parliamentary vote.
Saakashvili in response stated that "some politicians" were trying "to drag us into election campaigning." He accused the opposition of being "obsessed" with getting seats in the government, while his own ambition is to think about "enterprises, new resorts and cities, new jobs, new schools," Georgian media reported. Trying to use the opposition weapon against them, he hit back, stating his opponents' statements regarding the Syrian scenario meant that they were "threatening with thousands of victims."
Alasania said that recent developments and Saakashvili's "increasingly authoritarian manner of rule" indicated the transformation of Georgia into "a totalitarian state." The opposition, he stressed, was determined to get into power through the vote rather than violence "for the first time in 20 years."