Saakashvili turned Georgian police into death squads - opposition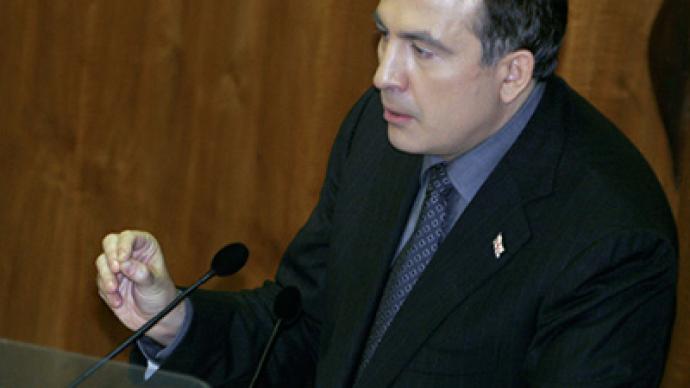 The Georgian Labour Party has accused the country's Interior Ministry of killing innocent people and terrorizing journalists. The party called for the US to intervene if it did not want to be complicit in the crimes of the Georgian regime.
Kakha Dzagania, the Labor Party's secretary for ideology, has told reporters in Tbilisi that his party had asked the U.S. Department of State to put the Georgian Interior Ministry on its list of foreign terrorist organizations. The opposition politician blamed Interior Minister Vano Merabishvili and PresidentMikheil Saakashvili for turning the ministryinto "a death squad", Georgian and Russian news agencies report."They have gotten into the habit of killing innocent people on the street, cracking down on demonstrators and terrorizing journalists, which has become a large-scale occurrence as of late. It's sufficient to mention the brutal killing of Gigi Gemazashvili in the village of Tsinandali in the Telavi district, as well as the murders of Shotiko Batiashvili, and Nino Koberidze in the village of Knolevi in the Kareli district," he said.Dzagania blamed the Georgian Security Service and border guards for these killings.The opposition activist said that his party had sent an official letter to the US Department of State outlining their complaints.They claimed that any failure to respond would demonstrate US support for the criminal regime and potentially encourage further criminal acts. He also added that US support is further evidenced by the fact that there are many American advisors in Georgian political, law enforcement, and military circles.The Labor Party's statement came on the same day that Georgia and the United States started a joint military exercise on Georgian territory. The Agile Spirit exercise is set to last for two weeks. About 350 US military servicemen and 450 Georgian servicemen are taking part in the maneuvers.The stated goals of the exercises are to increase experience and training in conducting joint actions in both fighting armed rebel groups and conducting peacekeeping missions.The Georgian Defense Ministry stated in an official release that Agile Spirit was organized with the aim of preparing Georgian troops for peacekeeping missions in Afghanistan.Georgian soldiers have been taking part in the joint mission in Afghanistan since 2009, and the current number of Georgian forces in this country is about 950. Nine Georgian servicemen have been killed in Afghanistan since 2010.