Georgia parliament overturns Saakashvili veto on 'political' amnesty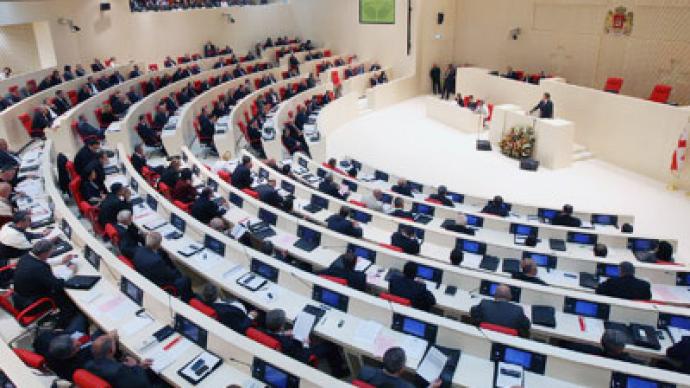 For the first time in the modern history of Georgia the Parliament voted to overturn President Saakashvili's veto on the release of 190 prisoners.
The decision was passed 91 to 24 votes with a required minimum support of three fifths. The bill will be sent to the President who should sign it, and if he does not it will then be passed to the speaker of the parliament for signature. The initial presidential decree on amnesty ordered the release of about 3000 people but did not include 190 inmates convicted for treason, espionage and also pedophiles and drug dealers.
Saakashvili's opponents, who now have the majority of seats in the parliament, claim that the convicts had been sentenced for their political views and the cases were fabricated by Saakashvili's people. In early December the parliament approved the list of 'political' prisoners and said that it would press for their release by legal means.
Initially the parliament passed the bill on the amnesty on December 21, ordering to release of the convicts included in the 'political' prisoners' list. President Saakashvili called the bill "a disgrace of parliamentarianism" and vetoed it claiming that not a single international organization has ever reported that Georgia had political prisoners.
Less than a week later, the parliament overturned the veto and Saakashvili again addressed the nation saying he wanted to protect society from the consequences of the amnesty that would release "the corruptors of the young, Russian spies, the conspirators plotting coups d'état and military mutinies".
Saakashvili went on to paint a black future for the country, claiming that the parliament created a precedent that made high treason possible as traitors are forgiven as the power in the country changes.
The current situation is just one of several conflicts that emerged after anti-Saakashvili bloc Georgian Dream won the parliamentary election in October. Saakashvili remains in power, but the latest political reform turned the country into a parliamentary republic and left very little power with the President, who will remain in office until October 2013.