Russia wary as Georgia cozies up to NATO
Published time: 10 Sep, 2012 10:39
Edited time: 10 Sep, 2012 14:57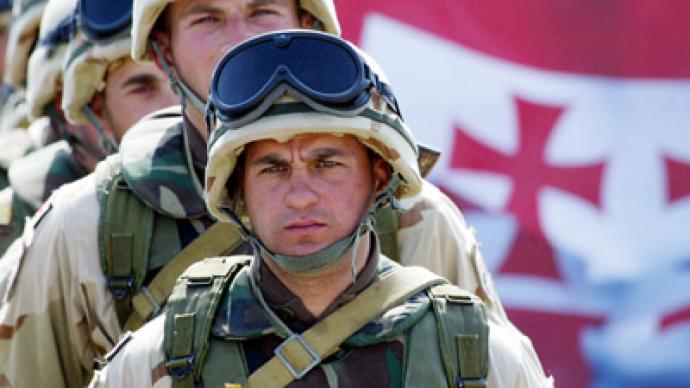 As Tbilisi continues to cozy up to the North Atlantic Treaty Organization (NATO), Moscow is concerned the relationship may result in Georgia again provoking tension with Russia.
At a briefing with Georgian President Mikhail Saakashvili, NATO Secretary General Anders Fogh Rasmussen said that the future was in  Georgia's hands but it should know that it had a friend in NATO.

Later, Georgian Defense Minister Dimitri Shashkin told reporters that "NATO is the future home of Georgia."
Concerned that the western military alliance may be encouraging Georgia to mischief, Russia's Foreign Ministry said such statements prove that NATO has not learned any lessons from the 2008 conflict in the South Caucasus.
"Such statements tell us that NATO failed to learn its lessons from the tragic events that took place in the South Caucasus in 2008, and continues to encourage Tbilisi," Alexander Lukashevich, spokesperson for the Foreign Ministry, said.
The comment was posted on the ministry's web-site on Monday.
"Everybody knows Russia's approach to this," Lukashevich continued. "We don't think that continuing with this notion of Georgia's possible membership in NATO will boost anybody's security. On the contrary, [such statements] encourages the Georgian authorities in their efforts to seek revenge."
Such statements serve to aggravate tension in the South Caucasus due to Tbilisi's reluctance to accept the current political situation, the minister added.
Moscow has reason to be concerned about an overconfident Tbilisi in its backyard. On August 8, 2008, Russia was forced to respond to a Georgian military offensive against South Ossetia. The surprise attack on the capital of Tskhinval resulted in the death of Russian peacekeepers, as well as hundreds of civilians.
The assault led to five days of hostilities, with the Russian military eventually advancing temporarily into Georgian territory before a ceasefire was brokered.
Following the conflict, Russia voted to recognize Abkhazia and South Ossetia as sovereign states.
Moscow is concerned that Mikhail Saakashvili, emboldened by NATO overtures, may be tempted to initiate another military misadventure in the region.
Meanwhile, in an ongoing scramble to join the Alliance, Tbilisi is busy trying to persuade the West that it respects democracy. Rasmussen lectured Georgia on upcoming parliamentary elections this October and Presidential elections in 2013, saying they would serve as a litmus test for Georgian democracy, and thus a determining factor in joining NATO.
"I trust that all political players in Georgia will play a responsible role in this process," said the Secretary General. "The future is in your hands. But know this: you have a friend in NATO – and a future home in NATO."
"Georgia will continue its course of democracy and reforms," Saakashvili said. "Let me assure you that the authorities will do everything to make these elections the freest and most transparent polls in the history of this country."

Rasmussen said that NATO would keep the door open to countries which continued moving on the path of reform and integration.
No third country has a right to interfere with NATO decisions; NATO is conducting an "open doors" policy and hopes that Russia would respect its decision, he said.
The NATO secretary-general reminded that during the NATO summit in Chicago held in May 2012 confirmed, NATO welcomed Georgia's desire to become a member of the military pact, which was borne out of the Cold War.
Not all Georgians, however, are enthusiastic over Saakashvili's militaristic ambitions.
Several local opposition parties in Georgia have come out against NATO membership, calling for a policy of non-alignment with any political blocs. The political opposition argues that if Georgia abandons its course towards NATO membership the process of a peaceful unification with Russia will begin.
In April 2008, NATO refused to grant membership to Tbilisi and Kiev under the Membership Action Plan (MAP). In December 2008, NATO foreign ministers presented Georgian officials a new format of cooperation, which include the implementation of national programs designed at bringing Georgia into the NATO fold.
Last week, the NATO Secretary General Anders Fogh Rasmussen participated in a farewell ceremony for the two Georgian battalions setting off for Afghanistan. With Australia pulling out troops Georgia will become the largest non-NATO contributor to the US-led mission.
Although the alliance will complete its mission in Afghanistan in 2014, it will continue to provide support to the Afghan Armed Forces, and Georgia will continue to be a "major non-NATO contributor," Rasmussen said.