Georgia's opposition leader advocates peaceful change of power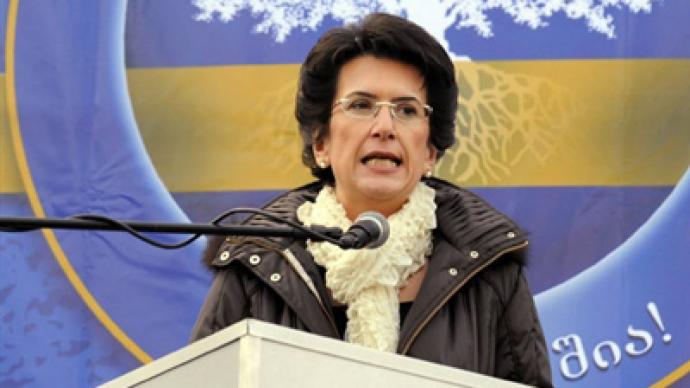 Former speaker of the Georgian parliament Nino Burdzhanadze has warned that the deteriorating situation in the country may result in "a social explosion."
­Burdzhanadze, who heads the opposition Democratic Movement-United Georgia Party, has described the social and political situation in the country as grave. The situation may further deteriorate, and "a social explosion may take place," she told the Georgian newspaper Rezonansi on Wednesday.

This turn of events may have grave consequences for the country, the politician warned. She urged Georgians "not to tolerate injustice." At the same time, Burdzhanadze suggested that they should take an active part in the peaceful struggle for a change of power. "The longer the present rulers remain at their posts, the more difficult it will be for new Georgian leaders to get the country out of the crisis," Itar-Tass quoted her as saying.

Georgian President Mikhail Saakashvili made it clear that he would not resign before the end of his term of office in January 2013. He has said there is no crisis in Georgia and the opposition will not be able to make him resign before his term has expired.

Earlier this week, members of Georgia's opposition coalition, the National Council, complained at the Council of Europe Parliamentary Assembly (PACE) about the current state of democracy and press in Georgia.

Meanwhile, former Georgian security minister Igor Georgadze predicts major political change in 2013. The current government has led the country into an impasse, he told journalists in Moscow on Tuesday. But according to Georgadze, for the time being the opposition is not strong enough to consolidate the people or "make a revolution."

Georgadze, who leads the socio-political organization Georgia Abroad, welcomed the fact that opposition leaders Burdzhanadze and Zurab Nogaideli have set course towards a rapprochement with Russia. Moscow has always been "the guarantor of stability in the Caucasus," he said.

First Information Caucasian TV channel on Tuesday resumed broadcasting airing a live program called "The President Answers Questions". Saakashvili used the opportunity to speak about his main external enemy and "occupation of Georgia's territory." He compared Russia to "a crocodile" ready to swallow his country.

Saakashvili said he would be thrilled to see the time when he no longer calls Russia "an enemy and adversary." But he said he was skeptical about the possibility of any talks with the incumbent Russian leadership. He also avoided answering directly whether he plans to become prime minister when his second presidential term ends.

Russian Foreign Minister Sergey Lavrov said in December last year that Georgia is "a friendly nation." Moscow is open to contacts with Georgians and want them to have a leader who puts national interests above "geopolitical games," he said. The leaderships of the two countries severed ties after Georgia's aggression against South Ossetia in August 2008.