Thousands show their distrust of Georgian president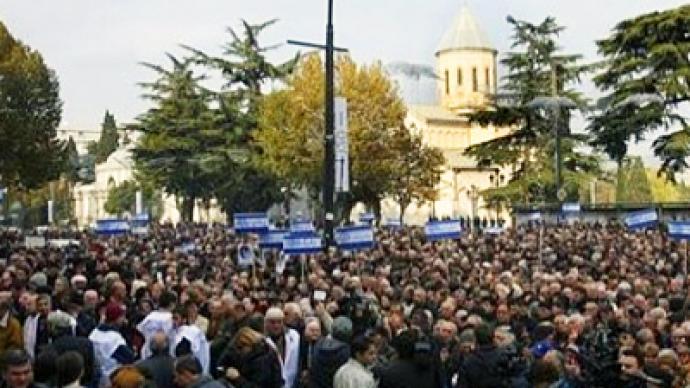 Thousands of people gathered Thursday in front of the Georgian parliament in the capital, Tbilisi, demanding the resignation of President Mikhail Saakashvili.
The rally brought together members of different opposition parties. It was organized by a group called the People's Gathering, which is headed by public figures and opposition members. The People's Gathering demands fair democratic elections and, eventually, the resignation of President Mikhail Saakashvili and his government."The main goal of this assembly is to show to everybody in Georgia and the international community that the Georgian population wants to change the government and have a really democratic government to build democracy in Georgia," opposition leader Nino Burdzhanadze told RT.The protesters reportedly refused the spot on which they were given permission to hold the rally, that they entitled 'The Verdict of Distrust', so the protest was taken to the street."Everything depends on the real will of the people who are now located here in the center of Tbilisi. We hope that this will be the start of serious processes which will continue until changes occur in Georgian government," political analyst Soso Tsiskarishvili said.Organizers kept stressing the peaceful nature of the gathering, as people can still remember how in November 2007, a peaceful rally was violently intercepted by the police, who used rubber bullets and tear gas on the protesters.
You can share this story on social media: